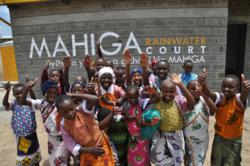 'Inspirational Red Bull for the humanitarian soul and proof positive that you can help fix our broken world and make a difference in the lives of countless others.' - The Austin Chronicle
New York, NY (PRWEB) July 20, 2011
Filmmaker Turk Pipkin's promise to help build the first high school for a remote African community connects Americans and Kenyans in a true story of Building Hope. (Lone Star Audience Award winner at SXSW Film Fest/Best Documentary at the Maui Film Festival)
Through challenges and triumphs, Building Hope chronicles the construction of Mahiga Hope High and the connection between a thousand people in the U.S. and an African community working to create a better future for their children.
The reviewer at Slackerwood.com called Building Hope, 'an inspiring documentary that builds hope for the youth of Kenya, and empowers people thousands of miles away to affect change through small yet significant contributions.' -
The Nobelity Project (http://www.nobelity.org ) is a nonprofit organization dedicated to basic rights for all children. Proceeds from the film and the NY Premiere benefit their Kenya Schools Fund, building classrooms, libraries, computer labs and water systems at rural Kenyan schools.
The Nobelity Project and Mahiga Hope High School were the winners of the international design competition, the Nike GameChangers Award, which funded construction of the RainWater Court, a full basketball court which collects and purifies 30,000 liters of water with ever 2" of rain. The school - designed as a model school for rural Africa - also has 8 classrooms, science labs, a library and computer lab. Mahiga Hope High School is now successfully operating under the jurisdiction of the Kenyan public education system and has 150 high schoolers enrolled.
Building Hope includes appearances by Kenyan youth counselor, Auma Obama, sister of President Barack Obama, and by Cameron Sinclair, founder of Architecture for Humanity.
Music by: Willie Nelson, Paul Simon, Eliza Gilkyson, Kat Emondson and Ayub Ogada.
###