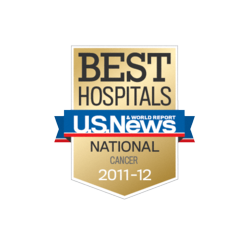 Only Cancer Center in New Jersey to Receive a Top 50 Ranking
Hackensack, Nk (PRWEB) July 20, 2011
John Theurer Cancer Center at Hackensack University Medical Center is the only Cancer Center in New Jersey to receive a top 50 ranking by U.S.News and World Report in the 2011-12 Best Hospitals.
"John Theurer Cancer Center's recognition by US News & World Report is a direct reflection of our team's commitment to extraordinary cancer care," said Andrew L. Pecora, M.D., F.A.C.P., C.P.E., Chief Innovations Officer and Professor and Vice President of Cancer Services at John Theurer Cancer Center. "We will remain focused on delivering superior care through research and innovation that allows us to offer tomorrow's treatments today."
John Theurer Cancer Center was ranked #42 among the best hospitals for cancer. This year, John Theurer Cancer Center's 14 specialized divisions came together under one roof in a new 155,000 square-foot building. The new building allows the John Theurer Cancer Center to further support the development of innovative therapies and approaches to improve patient outcomes, including a dedicated Phase 1 Unit, tumor baking to help development of biomarkers, new modalities of delivery of radiation therapy, and future molecular imaging technology.
"We have long-standing commitment to remain on the forefront of clinical care and research," said Andre Goy, M.D., M.S., Chairman and Director, John Theurer Cancer Center. "We are pleased to be nationally recognized for our clinical and research capabilities and plan to continue expanding through investments in talent, new technology, and infrastructure improvements."
The core mission of U.S. News & World Report Best Hospitals is to help guide patients who need an especially high level of care because of a difficult surgery, a challenging condition, or added risk because of other health problems or age. Hard numbers stand behind the rankings in most specialties—patient safety, procedure volume, death rates and other objective data. Responses to a national survey, in which physicians were asked to name hospitals they consider best in their specialty for the toughest cases, also were factored in.
"These are referral centers where other hospitals send their sickest patients," said Avery Comarow, U.S. News Health Rankings Editor. "Hospitals like these are ones you or those close to you should consider when the stakes are high."
The rankings are available online at http://www.usnews.com/besthospitals. The rankings, annually published by U.S. News for the past 22 years, will also be featured in the U.S. News Best Hospitals guidebook, which will go on sale August 30.
About the John Theurer Cancer Center at Hackensack University Medical Center
The John Theurer Cancer Center at Hackensack University Medical Center is New Jersey's largest and most comprehensive center dedicated to the diagnosis, treatment, management, research, screenings, and preventive care as well as survivorship of patients with all types of cancer. The 14 specialized divisions covering the complete spectrum of cancer care have developed a close-knit team of medical, research, nursing, and support staff with specialized expertise that translates into more advanced, focused care for all patients. Each year, more people in the New Jersey/New York metropolitan area turn to the John Theurer Cancer Center for cancer care than to any other facility in New Jersey. Housed within a 775-bed not-for-profit teaching, tertiary care, and research hospital, the John Theurer Cancer Center provides state-of-the-art technological advances, compassionate care, research innovations, medical expertise, and a full range of after care services that distinguish the John Theurer Cancer Center from other facilities. For more information please go to jtcancercenter.org.
###