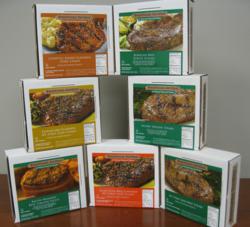 " I am excited about the prospect of selling our product into channels that NSP is just beginning to have presence in. I think this is a great opportunity to reach potential customers that we have not sold in the past."
Owasso, Oklahoma (PRWEB) July 20, 2011
National Steak and Poultry has been working on a new line of Cash and Carry products under the brand name Steakhouse Certified®. The line consists of seven new items including beef, chicken and pork for the center of the plate. Each item is packaged with the consumer in mind; bright, colorful labels including product pictures; convenient dinner portions and see thru packaging.
The new Cash & Carry line is targeted for consumer's and part of the Steakhouse Certified® brand that has been around for over 10 years and is well established in the food service market place. The brand is known for a broad selection of sizes and cuts in mouthwatering flavor profiles.
There are 7 items available for the launch of the Cash and Carry line. The items consist of beef, chicken and pork to provide consumers a variety of choices. Consumers will appreciate the tenderness and rich full flavors providing an ideal bite. The seven new items are; CC083708 a 7 ounce NY Strip Loin Steak Savory Flavor, CC084708 a 7 ounce NY Strip Loin Steak Asian BBQ Flavor, CC085708 a 7 ounce NY Strip Loin Steakhouse Peppercorn Flavor, CC281308 a 10 ounce Boneless Beef Ribeye Steak, CC88508 a 5 ounce Bacon Wrapped Sirloin Filet, CC68608 a 6 ounce Boneless Beef Sirloin Steak, CC92608 a 6 ounce Chipotle Adobo Flavored Pork Loin Chop.
The Cash and Carry line has packaging and portions that will be appreciated by all consumers. Each portion is individually vacuum sealed to maximize shelf life. These consistently sized portions are presented in bright and colorfully labeled boxes which include product pictures and nutritional information. National Steak and Poultry's Steakhouse Certified® products are an ideal fit for anyone looking for a quality consistent product that will build more sales with bigger margins.
" I am excited about the prospect of selling our product into channels that NSP is just beginning to have presence in. I think this is a great opportunity to reach potential customers that we have not sold in the past," said Mike Wilson – Vice President of Sales for National Steak and Poultry.
National Steak and Poultry expects the new line to be in stores by mid July. They are already working on additional items to enhance the consumer focused line. Pre-launch feedback on the items indicates a positive outlook for strong sales.
About National Steak and Poultry: founded in 1980, with its headquarters in Owasso, Oklahoma. National Steak and Poultry markets its protein-based marinated food products under the brands of "Seared and Sealed(TM)" and "Steakhouse Certified(TM)" to national restaurant chains, food service, military and broadline channels. For more information visit our website http://www.nationalsteak.com.
Contacts: Brenda Dietzfeld (news media) 918-274-8787, website: http://www.nationalsteak.com, Twitter: @nationalsteak, Facebook: nsp steak.
# # #