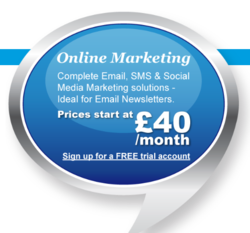 A lot of people are so busy running their businesses that they don't have the time, or the expertise, to get involved with the online world", said joint managing director Peter Harrison
Crewe, Cheshire (PRWEB UK) 21 July 2011
The Printing House Ltd, which employs 38 people at its Marshfield Bank industrial estate, Cheshire, has launched Communications Online to enable customers to manage their email marketing, text broadcasts and social media marketing all in one place.
The service allows users access to a web portal that integrates digital campaigns combining email, Facebook and Twitter with reports showing who is responding and when.
"A lot of people are so busy running their businesses that they don't have the time, or the expertise, to get involved with the online world," said joint managing director Peter Harrison. "But there are so many advantages to setting up a corporate Facebook account, for example, that we now offer a service that makes it easier for people to get involved in the online world. We can even set people up with their own blog."
The company has also developed an 'app' for android and apple mobile phones that interior designers can use to work out an instant price for its printed wallpapers. The app even includes movies to show designers, decorators and customers how to fit the special wallpaper.
"It's great that we are able to develop these apps ourselves and these developments are typical of the support that people need from their commercial printers these days," added Peter: "They are looking for really useful tools.For example, the email service not only sends out good-looking emails but also provides full analytics showing who opened the email and when. And our studio not only designs websites but also advises on how to get more hits on that site, known as SEO (Search Engine Optimisation). We are well-known for our colour printing but printing is just one aspect of communicating with the wider world."
Sign up for a free trial of the Marketing Web Portal.
The Printing House also owns several other brands, most well known being PrintBuyingDirect, famous for cost effective, quality banner stands, leaflets, posters and business cards.
###