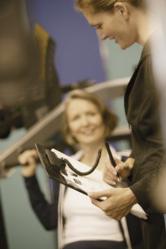 Exercise is the best medicine for heart health and with this program patients can know how to exercise safely and effectively.
Calgary, AB (PRWEB) July 22, 2011
The Heart Fit Clinic is the leader in cardiac rehabilitation, maintenance and heart attack and stroke prevention. It is providing innovative ways to ensure people are living happier, healthier and longer with this cardiac rehabilitation exercise DVD program. Exercise is the best medicine for heart health and with this program patients can know how to exercise safely and effectively.
Heart disease and stroke continues to be the leading cause of death and hospitalization. More people are surviving cardiovascular events and bed rest, or taking it easy may not be the best choice. We are restricted by wait times, so when waiting and doing nothing may be more harm than good.
It is difficult to know how to exercise after a heart attack. Fear, anxiety and lack of confidence will keep patients bed ridden when it is actually doing more harm than good. This cardiac rehabilitation exercise program includes exercise benefits, exercise guidelines, and exercise precautions. Once patients begin their cardiac rehabilitation exercise program then patients can progress to other umbrellas of fitness that is included in this program. Resistance training and stretching guidelines and exercises are also included in the cardiac rehabilitation exercise program.
For stable patients after a cardiovascular event, such as a heart attack, early exercise is the key to the best outcome for your heart. Their research states that within 1 week of their heart attack is best. The heart itself will become better with exercise sooner and of course continuing as lifestyle behaviour.
In the past, it has been told to wait four to six weeks before commencing a cardiac rehabilitation program. The researchers out of University of Alberta determined that patients who begin an exercise program one week after their heart attack were found to have the best heart performance. The key of course is to continue with your exercise program.
Calgary cardiac wellness program, Heart Fit Clinic provides clinical fitness assessments to determine safe and effective level of exercises especially for patients after a heart attack or stroke. It is important to have some fitness assessment whether it is a sub-maximal or maximal test so your healthcare team can determine a safe and effective level of exercise.
With this cardiac rehabilitation exercise DVD program patients can determine a safe level of exercise with or without fitness exercise testing. Patients in rural areas may not have the benefit of getting some fitness assessment so this program allows for patients to prescribe their exercise intensity. It becomes important to log and set a diary of the exercise program as their will be a training effect.
Starting a cardiac rehabilitation exercise program after a cardiovascular event is vital and will save lives especially when you start early. This exercise program can also be used for patients who have been diagnosed with high blood pressure, high cholesterol, diabetes, stress and overweight.
# # #