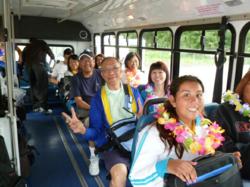 The feel of vacation begins at Wiki Wiki
Bellingham, WA (PRWEB) July 21, 2011
Wiki Wiki Park n Shuttle, servicing the Bellingham International Airport is proud to be a part of first-time Island visitors as well as returning vacationers. Ernie and Velma Henken, owners of Wiki Wiki Park n Shuttle opened their Bellingham secure gated parking facility March 1st with the vision of creating a tropical environment of enjoyment including "de-stress" for Hawaii bound travelers. Their theme is "Hawaiian" which is suiting to their goal.
Whether travelers come from the North, South or East, they are welcomed with big smiles to a nicely maintained parking lot (with 1 foot wider than normal parking stalls), a cozy reception area and refreshments with music of the Islands playing softly in the background. The feel of vacation begins at Wiki Wiki.
For the 1st time travelers to the Hawaiian Islands, Ernie reports a little history of the Islands as well as a few stories based of the many times spent years back, including the additional 40 years of accumulation of growth and expansion to the more popular areas of Hawaii. Add to this, Tips and Suggestions on "Where to go, What to see and What to do, Where to dine", particularly for the novice, helps creates added ideas to their agenda, planned or unplanned.
There is such a wonderful occurrence as travelers, novice and seasoned share their stories and experiences at the Wiki Wiki Reception room. These are delightfully shared forward with others and the excitement of the next flight to the Islands builds all the way to the departure gate.
With Alaska Airlines offering such great deals to fly from the Bellingham International Airport, Ernie and Velma are pleased to see the number of families that are traveling together to enjoy the many venues offered; as there is something for everyone whether it be total relaxation or adventures into the untouched nature. The number of first time travelers to Hawaii seems to be on the rise thanks to these current airfare rates. A recent departure day included 14 passengers using Wiki Wiki Park n Shuttle service, only 1 of the 14 had ever been to Hawaii before... and even then, some 30 years ago, when he was just 6 years old. The added fun for Ernie and Velma is on the return of these first timers and to hear what they enjoyed the most and what the highlight of their visit was and to hear of their plans to visit again soon.
All travelers, whether flying to Honolulu, Las Vegas, Oakland, Los Angeles, Palm Springs or San Diego will find Wiki Wiki's service to be outstanding with efforts to make their trip a memorable beginning as well as a welcoming return.
Wiki Park n Shuttle LLC, established March 2011
4770 Pacific Hwy.
Bellingham, WA 98226
1.888.233.5523
wikiwikiparknshuttle.com
http://www.facebook.com/wikiwikiparknshuttle
info(at)wikiwikiparknshuttle(dot)com
Owners; Ernie & Velma Henken
About Wiki Wiki Park n Shuttle:
Once Alaska Airlines announced direct flights to Honolulu from the Bellingham International Airport in the beginning of this year, Ernie and Velma Henken decided this was a good time to introduce a safe, gated and fenced off-site parking area with a tropical theme and cater to such travelers. From their own experience of traveling, the where to find parking... how to get luggage from point A to point B, deal with traffic and uncertainties... or even running a little behind can make traveling somewhat stressful and hard work. Wiki Wiki Park n Shuttle's goal is to take this stress away... and offer a relaxed atmosphere with added fun... ladies receive a silk lei, everyone is offered a family-friendly Hawaiian Mai Tai beverage as Ernie shares a few stories including a small legend. Once the travelers board the Wiki Wiki Shuttle, they are serenaded with Hawaiian music right to the departure curb at the airport.
Upon the traveler's return, the Wiki Wiki Shuttle is waiting at the curbside anxiously waiting to hear of the recent vacation highlights. Once back at the parking facility approximately 3 miles distance on the frontage road of the Interstate 5, fresh Kona coffee is offered as well as hot chocolate to help warm up and wake up the overnight flyers. Everyone leaves with a bottle of water to help keep the hydration up while heading for home. Offering good old fashioned service and fun is what sets Wiki Wiki Park n Shuttle apart.
# # #