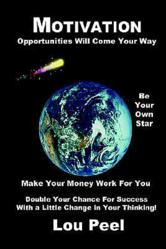 Make life say yes instead of no to your plans and your ambitions.
Wichita, KS (PRWEB) July 20, 2011
Many people struggle with motivation and self-confidence. In her new book, Motivation, author Lou Peel reveals how to seize opportunities and take control of your life by simply changing the way you think.
"The power that signals success is the power of your mind," writes Peel. "Make life say yes instead of no to your plans and your ambitions."
Peel uncovers an introspective look at every woman's self-esteem and creative abilities. Learn a better outlook on life, become empowered and inspired to do more. Motivation will illustrate how self confidence will lead an optimistic outlook on life and gain personal power.
Peel's real life experiences as a beauty wholesale entrepreneur aides readers to change daily thoughts into powerful positivity. As a member of the Toastmasters International, Peel has developed public speaking and leadership skills through a global network and shares her knowledge in this book.
In Motivation, Peel offers case studies of successful business owners that have taken advantage of the opportunities presented to them. Peel proposes tips to develop a strong positive self image. The topics in the book also include:

Managing your opportunities
Make your money work for you
Gaining personal power
How to handle stress, tension and anxiety
Conquering boredom and discouragement
Motivation is an inspiring read for women looking to better themselves and jump start their lives. Peel's ability to speak in simple terms and relatable ideas leave women feeling empowered, bright, successful and capable.
About the Author
Lou Peel teaches positive principals assisting people in turning their lives toward a more positive direction. She is a member of the National Speakers Association, International Platform Association and International Biographical Centre based in Cambridge, England. She is also a member of the American Biographical Institute Inc. and Toastmasters International. Peel enjoys to travel. Currently, Peels spends her time in Hutchinson, Kansas.
###