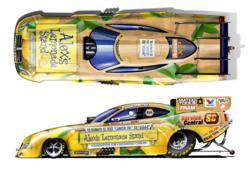 "We are committed to the success of this campaign. Our store associates, Service Central race teams and drivers are beating their drums to increase awareness and raise funds for Alex's," said Bob Crostarosa, SVP Marketing for TBC Retail Group
Juno Beach, FL (PRWEB) July 21, 2011
In their ongoing efforts to fight childhood cancer, TBC Retail Group has agreed to match up to $25,000 in support of the Alex's Lemonade Stand Foundation (ALSF) Text to Donate campaign. Participants are urged to text "Cancer TBC" to 85944 to make a one-time $5 donation through August 1, 2011, and TBC Retail will match up to $25,000 in the hopes of raising $50,000 for the cause. This campaign gives consumers an easy and convenient option to join the fight to make a difference in the lives of all children affected by childhood cancer.
Additionally, TBC Retail Group's 1,200 plus tire and automotive retail locations; Tire Kingdom, NTB-National Tire and Battery, Merchant's Tire and Auto, and Big O Tires have committed to raising awareness and funds at their stores throughout the month of July. Customers will receive valuable coupons for their donation of $5 or more.
"We are committed to the success of this campaign. Our store associates, Service Central race teams and drivers are beating their drums to increase awareness and raise funds for Alex's," said Bob Crostarosa, SVP Marketing for TBC Retail Group. "We challenge our customers and race fans to join this fight. Their $5 donation will help get us closer to our goal of raising $25 thousand dollars in text donations for the cause."
"We are thrilled to have the continued support of TBC Retail Group as we work to find better treatments and cures for all kids with cancer," said Liz Scott, Alex's mom and Vice President of Outreach & Communications for Alex's Lemonade Stand Foundation. "Utilizing the text to donate program is a great way to engage TBC Retail Group's customer base, allowing them to take a few small minutes out of their day to make a big difference in the lives children battling cancer."
Alex's Lemonade Stand Foundation (ALSF) emerged from the front yard lemonade stand of cancer patient Alexandra "Alex" Scott (1996-2004). In 2000, 4-year-old Alex announced that she wanted to hold a lemonade stand to raise money to help find a cure for all children with cancer. Since Alex held that first stand, the Foundation bearing her name has evolved into a national fundraising movement, complete with thousands of volunteers across the country carrying on her legacy of hope. To date, Alex's Lemonade Stand Foundation, a registered 501(c)3 charity, has raised more than $45 million toward fulfilling Alex's dream of finding a cure, funding over 200 research projects nationally.
ABOUT TBC RETAIL GROUP
Headquartered in Juno Beach, Florida, TBC Retail Group, Inc., a subsidiary of TBC Corporation, operates more than 800 tire and automotive service centers under the brands: Tire Kingdom®, NTB - National Tire and Battery®, and Merchant's Tire and Auto Centers®, along with nearly 500 franchised Big O Tires® locations. The contingent of over 1200 stores has trained and certified ASE technicians who use state-of-the-art equipment to provide quality service on cars and trucks. The nationwide warranty provides peace of mind while it protects consumers and their investment in over 40 states. TBC Retail Group employs more than 300 associates at its Juno Beach, Fla. headquarters and approximately 10,000 associates nationally. To locate a store near you, call 800-NEW-TIRE. TBC Corporation, headquartered in Palm Beach Gardens, Florida, is one of the nation's largest marketers of automotive replacement tires through a multi-channel retail and wholesale strategy. (http://www.servicecentralauto.com)
###