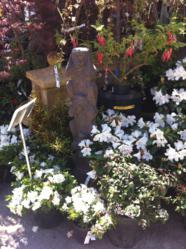 CompoClay's goal is to replace harmful materials that contain harsh toxins and chemicals, and products that lead to devastating environmental practices like deforestation and harmful underground mining.
San Francisco, CA (Vocus/PRWEB) July 22, 2011
CompoClay Northern California green building is a Bay Area company that has created a revolutionary eco-friendly material that has the unique traits completely sustainable, nonhazardous, and remarkably malleable in its uses. This amazing new material can be used to make everything from fireplace mantels to wall panels to pottery. CompoClay's goal is to replace harmful materials that contain harsh toxins and chemicals, and products that lead to devastating environmental practices like deforestation and harmful underground mining.
In addition to its green home products, CompoClay strives to promote green operations and a green society. CompoClay employees strive to educate everyone who walks in their doors about the importance of the green movement. CompoClay is also making strides to help other businesses go green, themselves. CompoClay helps companies go green with its beautiful line of eco-friendly wholesale products for the home and garden, and custom lines for distribution.
Oakland's Grand Lakes Ace Nursery and Garden Center is one of the first Bay Area businesses to carry CompoClay products, including garden lanterns, statuary, and pottery. CompoClay's line of green products is a great addition to their beautiful nursery, and will catch the attention of any eco-enthusiasts who frequent it. The Intimate Flame, in Fremont, CA is another distributor of CompoClay products, boasting an assortment of fireplace mantels and shelves made from CompoClay. CompoClay has been able to work their way into these stores not just with great prices, beautiful designs, and high quality, but also because they give businesses a way to show that they too are doing their part for the environment.
Studio-A, an industry leading home furnishings and design company, commissioned CompoClay to recreate some of their most popular pieces using CompoClay's patent-pending material. Studio-A is another company that is extremely cognizant of the impact humans can have to both harm and help the planet. Studio-A has gone to great lengths to avoid using harmful products like resins, and when they discovered CompoClay, it was a perfect fit. The beauty of CompoClay, aside from being sustainable and nonhazardous, is that it is so versatile for design that it can be used to replicate hundreds of different looks from all types of stones and woods to ceramics and even metals.
Other savvy companies should jump at the opportunity to be recognized as a green business. Customers are becoming more and more aware of environmental issues, and they are seeking businesses that reflect the values of sustainability and eco-friendliness. What could be better for a business than to get great products, at great values, that will not only fly off the shelves but will make a strong impression on customers looking for eco-friendly, alternative products.
For questions regarding CompoClay's green resource center, products, or any of their services, visit their headquarters at 2536 Santa Clara Avenue in Alameda, their SF showroom at 60 Post Street in the Crocker Galleria, call them at (510) 769-5179, or visit them on the web at http://www.compoclay.com.
About CompoClay
CompoClay Northern California eco-friendly construction materials is a manufacturing and distribution company on the forefront of delivering eco-friendly products as well as the education that drives the production and consumption of these products. CompoClay believes that the benefits and impact of using such products over traditional materials should not result in higher costs, forfeiture in quality, and/or a compromise in design.
Through continuous innovations in research and development, the characteristics of CompoClay being ecological, safe, durable and versatile for design, are successfully inherited into it high-quality and well-designed products. With excellent product designs and guaranteed quality by certifications with international standards, CompoClay will promote responsible, environmentally conscious everyday products.
###