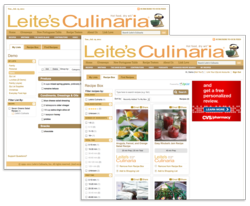 We'd been looking for a long time for a personal recipe box and shopping list solution to no avail. ZipList fit our needs perfectly.
Sterling, VA (PRWEB) July 21, 2011
ZipList, Inc., the market-leader in online and mobile grocery list and recipe box management, with partners ranging from AOL's KitchenDaily to Martha Stewart Living Omnimedia, today announced that multiple award-winning food blog, Leite's Culinaria, has teamed up with ZipList to integrate a fully-branded recipe box and grocery shopping list along with custom recipe search, in order to enhance the overall experience of food lovers and at-home chefs who frequent the site.
Leite's Culinaria (http://www.leitesculinaria.com) was launched in 1999 by David Leite, author of "The New Portuguese Table: Exciting Flavors from Europe's Western Coast," which has won numerous literary awards. Leite's website features culinary resources and cooking tips, as well as an extensive collection of recipes from the United States and abroad. Leite's Culinaria has been presented with prestigious awards from the James Beard Foundation, World Food Media and Writer's Digest, among others.
The unique value proposition of ZipList is that recipes found on Leite's Culinaria can be saved to a user's personal recipe box that syncs recipes and shopping lists across the web and mobile devices, creating a single, searchable database tailored for each user. ZipList can be accessed from any ZipList-powered website and on free ZipList Android and iPhone apps, all of which sync seamlessly. Importantly, users can search and save recipes, as well as manage all of their shopping lists and recipes, directly from within Leite's Culinaria using a single account.
"Leite's Culinaria offers an extensive collection of world-class recipes. We're excited to be able to work together to help readers engage and act on these culinary experiences," said Geoff Allen, Founder and CEO, ZipList, Inc. "These new recipe tools allow users to have a single, easy-to-use recipe box and shopping list no matter where they are on the web."
"The first time I saw what ZipList could offer us and our users, I was mightily impressed," said David Leite, Publisher and Editor-in-Chief, Leite's Culinaria. "We'd been looking for a long time for a personal recipe box and shopping list solution to no avail. ZipList fit our needs perfectly—and all without complicated or costly customizations. What sold me was that my users could have a single place for all their recipes, regardless of where they came from, and just one password to access them. This is something our research showed they wanted."
Last month, ZipList introduced a new platform, enabling food publishers and bloggers of all sizes to add a fully-brandable recipe box, recipe search and grocery shopping list solution on their websites. The solution is free and allows any food publisher to offer a best-in-class, full-featured solution, while maintaining their own personal brand. A number of food blogs have already integrated these features to their sites, including Faithful Provisions, A Southern Fairytale and Hoosier Homemade, among others.
To date, more than 400,000 people have used ZipList on ZipList.com, partner websites and mobile apps, adding millions of items to their weekly grocery lists.
Helping Partners Connect with Consumers
ZipList powers more recipe box and shopping list features on online and mobile lifestyle sites and apps than any other provider. Consumer packaged good manufacturers (CPGs), media publishers, grocery retailers and mobile developers can directly embed ZipList functionality into their web and mobile products, enabling consumers access to their single, personal grocery lists or recipe boxes while staying within a fully branded experience. Integrated mobile capabilities allow partners to offer a seamless online and offline experience, even while consumers are in the store. Interested partners, including recipe sites and food blogs, can contact ZipList at partners(at)ziplist(dot)com.
About ZipList, Inc.
ZipList is a market-leading online and mobile shopping list and recipe management service that enables shoppers to create and share grocery lists with family members. Users can arrange their lists by aisle or store, and can save recipes to a central recipe box. ZipList has partner tools, branded white label experiences and SDKs available to enable media and lifestyle properties to incorporate shopping list and recipe box features into their own sites and mobile apps. ZipList features can be found on AOL's KitchenDaily.com, MarthaStewart.com, Martha's Everyday Food iPhone app and various food blogs. ZipList is on the web at http://www.ZipList.com.
Check out the ZipList blog at http://blog.ziplist.com for the latest recipes, product updates, money-saving advice and grocery shopping tips. Follow ZipList on Twitter at http://www.twitter.com/ZipList or become a Facebook Fan at http://www.facebook.com/ZipList. ZipList is also available as a free mobile app for iPhone and Android users. For more on these mobile apps, visit http://www.ZipList.com/apps.
###