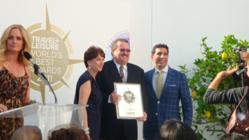 Montego Bay, Jamaica (PRWEB) July 21, 2011
Couples Resorts ranks at the top of the Travel+Leisure 2011 "World's Best Awards," according to thousands of readers of the travel publication. Of the four properties owned and maintained by Couples Resorts, Couples Tower Isle was voted as the "World's best 2011 Hotel Spa" in the Caribbean, Bermuda and Bahamas region with Couples Sans Souci and Couples Swept Away being voted #2 and #3, respectively. Travel +Leisure's 2011 "World's Best" awards is the 16th consecutive poll which allows readers to select the publication's definitive list of the top hotels, cruise lines, airlines, car rental agencies, outfitters, cities and islands in the world. The voting for the World's Best Hotels is based on rooms, location, service, food and value.
Overall, all four Couples Resorts have been once again ranked in the Top 10 Resorts in the Caribbean with Couples Tower Isle (#2), Couples Swept Away (#3), Couples Sans Souci (#5) and Couples Negril (#10). Couples Resorts are the only Jamaican Resorts to be ranked in the Top 10.
"We are thrilled at the amount of positive acknowledgment our Resorts have received in these prominent award categories presented by Travel+Leisure magazine," commented Lee Issa, Chairman of Couples Resorts. "Knowing that genuine, unbiased travel aficionados with an appreciation for quality voted our brand among the best in the world is extremely gratifying."
"Using the Olympics analogy, we are on the stage holding the Gold, Silver and Bronze medals, waving the Jamaican flag," says Randy Russell, Chief Romance Officer and Senior VP, Sales and Marketing for Couples Resorts. In honor of receiving this new award, Couples Resorts in turn is rewarding loyal guests with an exclusive spa promotion of a $100 per day in spa credit for guests that book Couples Tower. Details available on http://www.couples.com.
About Couples Resorts:
Couples Resorts, headquartered in Montego Bay, Jamaica, owns and operates four properties in Jamaica – Couples Tower Isle, Couples Sans Souci, Couples Swept Away and Couples Negril. Pioneered by the legendary Abe Issa, "father of Jamaican tourism," each Couples Resort is an unsurpassed model of the all-inclusive resorts concept, boldly designed with local inspiration to create a harmonic sense of nature and authentic Caribbean spirit. For over 33 years, Couples has delighted guests and refined the Caribbean all-inclusive resort experience by providing unparalleled service, exceptional dining experiences and exclusive added value inclusions. For further information please visit http://couples.com/.
###