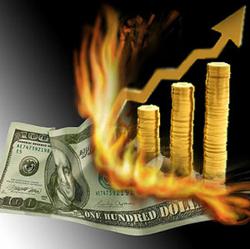 Gold Prices Hit $1600 As US Dollar Weakens
Los Angeles, CA (PRWEB) July 20, 2011
Concerns over the US debt Ceiling and euro-zone debt crisis caused the price of gold to pass the $1,600 an ounce for the first time in history. US gold dealer Regal Assets estimates that gold bullion and silver coins are still some distance from its real record high as 1 oz of gold traded at $835 in January of 1980 which is the equivalent of $2,400 today.
Driving this current rally of gold and silver prices are the two largest international credit rating agencies Standard & Poor's and Moody's Investor Service. The U.S. could default on its debt Aug. 2 if Congress and the White House don't agree to raise the country's borrowing limit. Both Moody's and S&P rating agencies have warned U.S. lawmakers of their intention to downgrade their credit assessment regarding the U.S. ability to pay its debts.
As of June 29, 2011, the Total Public Debt Outstanding of the United States of America was $14.46 trillion and was approximately 98.6% of calendar year 2010's annual gross domestic product (GDP) of $14.66 trillion. Using 2010 figures, the International Monetary Fund places the total U.S. debt at 96.3% of GDP, ranked 12th highest against other nations. The IMF is also one of the largest holders and supplier for countries looking to acquire and buy gold.
Moody's and S&P already have downgraded the debt of both Greece and Portugal with S&P openly voicing its outlook on U.S. debt from "stable" to "negative". Countries including Italy, Spain and Ireland are struggling to pay their bills. Defaults could mean losses for the banks that own bonds issued by those countries, and that could trigger widespread disruption in financial markets.
Due to the importance of gold prices in relation to the world economy, Regal Assets has released the phone app iGoldLive. iGoldLive is a phone app that delivers live gold price news and alerts to smartphones such as the Droid and iPhone. Investors can inquire to buy gold and silver from iGoldLive or make a purchase for physical delivery over the phone at 1-877-962-1133 and online thru http://www.RegalGoldCoins.com
###