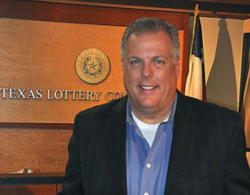 With great wealth, comes great responsibility.
Dallas–
Fort Worth, TX (PRWEB) July 21, 2011 -- In May, the lives of two Texans were changed forever when they won the thirty-five million dollar jackpot in the Mega Millions lottery. Who are these lucky people? Well, unless you are part of their family or circle of closest friends, you are not likely to know. In order to maintain their anonymity and claim their prize, the winners hired attorney Jim Ross to set up a trust and to act as trustee on behalf of that trust.
Privacy is very important when you have received a sudden windfall of cash or property, because it takes some time to fully accept and adjust to your new circumstances. As Jim Ross told the Texas Lottery Commission when he claimed the Mega Millions prize for the MAIM Revocable Trust: "The recipients are very excited about this win, and obviously, it's been quite a lifestyle change for them. It's been a fun process dealing with that adjustment."
"A winning lotto ticket is like a bank check in many ways. If anything happened to it, its value is gone," says Jim. "The recipients took precautions to protect their ticket, anonymity and wealth at every step. Talking to an estate law attorney before receiving new wealth has many benefits."
In general, having a trust in place to hold large cash assets is an excellent way to maintain a degree of privacy about finances, particularly if someone is becoming accustomed to a new lifestyle.
Wealth preservation is another paramount concern for anyone who has amassed a considerable fortune either over time or in a windfall. "A trust can preserve and protect wealth during your lifetime and beyond, to ensure that your fortune can be passed down to your children or grandchildren, or donated to charity after your passing," says Jim.
As far as sudden windfalls of cash go, winning the lottery is very rare. State lotteries mint fewer than 2,000 lucky millionaires each year. More commonplace avenues to sudden wealth are receiving a large gift, inheritance, or even by recovery on a lawsuit. In these situations, the same principles of wealth management apply.
Many among the newly wealthy may not have relationships with professional wealth-management resources such as lawyers, financial planners, and accountants. A good estate law attorney can help clients protect wealth and privacy, while guiding them to trustworthy professionals. With great wealth, comes great responsibility.
About Jim Ross & Associates P.C.
Jim Ross & Associates P.C. (MyFtWorthTxAttorney.com) is a Texas law firm that believes all people deserve competent representation. The firm's Fort Worth law office is located at 3116 W 5th St., Ste 108 Fort Worth, TX 76107.
###