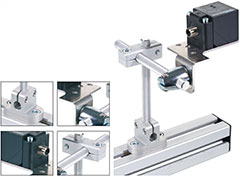 Florence, KY (PRWEB) July 21, 2011
All too often, the location and installation of industrial sensors is an oversight by many machine builders and OEM's. Understandably, the fit of these small components in the overall complexities of the engineers' design seem like the most basic of tasks.
However, the decision of where and how to locate a sensor is many times not made until the machine or equipment is actually being constructed. In-house fabricated fastening systems can be expensive and time consuming. Users can save time and money with the universal, modular designed mounting system for sensors from Balluff. In just a few steps, these mechanically rugged standard mounting accessories can easily handle complex positioning tasks.
The fasteners are available in plastic or V4A stainless steel, making the mounting system ideal for use in challenging industrial environments and in automotive areas. The high quality stainless steel versions provide resistance to industrial cleaning agents common in wash-down environments. This means they can be used in the pharmaceutical and food industries or in breweries having strict hygienic requirements.
The aluminum base holder fits nearly any manufacturer-specific mounting extrusion and fully covers the slot. Also featured are knurled support rods, which provide a secure hold even for large, heavy sensors.
The system includes every conceivable accessory, including clamping cylinders, cross-connectors as well as sensor holders for block style and tubular sensors, many designed so that in their fastening function they also provide mechanical protection for the sensor. Completing the offering are components such as reflector holders and adapter plates.
To ensure that no user requirements go unfulfilled, Balluff is continually developing new components for the Mounting System.
For more information on the modular mounting system, visit: http://www.balluff.com/BMS
Editors: To download the high resolution press images, click here.
Balluff Inc., the U.S. subsidiary of Balluff GmbH, Neuhausen, Germany, is a leading manufacturer of a wide range of inductive, photoelectric, vision, capacitive and magnetic sensors as well as linear position transducers, RFID systems, and networking products. Balluff products for OEM and factory floor solutions are used to control, regulate, automate, assemble, position, and monitor manufacturing, assembly, and packaging sequences for industries including: metalworking, automotive, plastics, material handling, wood processing, aerospace, alternative energy, medical, electrical, and electronics.
Editors: please contact Kelly Panko at 1-800-543-8390 for clarifications and additional information e-mail kelly.panko(at)balluff(dot)com
Direct reader service inquiries to: Kelly Panko, Balluff Inc, 8125 Holton Drive, Florence, KY, Phone 1-800-543-8390, or http://www.balluff.com
In Canada only, contact Norman J. Clarke, President, Balluff Canada, 2840 Argentia Road, Unit # 2, Mississauga, ON L5N 8G4, Phone 1-800-927-9654 or Tel: 905-816-1494, 905-816-1411, E-mail: balluff.canada(at)balluff(dot)ca
###