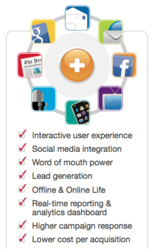 Our fans can share news, deals, offers and any other user benefit they find. Dukky helps us broker that relationship to get our clients' offers in front of our users and their peers in a fun, exciting, and lucrative way.
New Orleans, LA (PRWEB) July 21, 2011
As social media integration continues to become important for great marketing, local television stations are looking to give their advertisers the ability to reach and engage a more targeted audience and leverage those customers to become brand evangelizers. Many stations have recognized that offering their advertisers new ways to generate qualified leads through social sharing, in addition to traditional digital and broadcast advertising, is helping elevate their game in providing true returns for local businesses.
One television station is at the forefront of this evolutionary movement. WJW - FOX 8 in Cleveland, Ohio has recently begun using Dukky marketing technology which provides the ability to target and share clients' promotional advertisements virally through customized microsites. These microsites, developed on the Dukky SaaS Platform, send customers through an interactive sales "funnel" capturing quantifiable data on their customers through contest registrations. With the integration of social sharing and incentives, each campaign can reach new customers, potentially ones that have never been exposed to the station or the client's brand before. The Dukky Analytics Dashboard visually manages those incoming leads in real-time, showing engagement at each level of the funnel.
Using Dukky campaigns, FOX 8's advertisers have enjoyed an astounding increase in response rates and ROI, in some cases nearly doubling the returns from previous, more traditional digital ad campaigns. Equipping their campaigns with incentives for sharing through Dukky's Viral Peer Sharing, local clients have seen 70% to 85% increases in their response rates to their campaigns.
A major national furniture client of FOX 8's recently launched a multi-platform campaign using Dukky and had great success. Over 18,000 people visit their Dukky-powered microsite; forty-two percent of those visitors shared their information and were added to the local furniture store's customer database. Of those who gave their information nearly 60% shared the company's offer on their social networks and through email, bringing in over 6,300 new customers to their microsite. Other FOX 8 clients enjoyed similar results to their campaigns, gaining new customer lists with 1,000 to 7,000 new customers each. All enjoyed share rates of 15% or higher as well.
By integrating Dukky technology onto its existing marketing strategies FOX 8 has been able to take its marketing reach and revenues to new heights.
Jennifer Guerrieri, Vice President of Interactive for Local TV LLC, FOX 8's parent company, says, "Dukky has been a great addition to our marketing platform for local clients. With the wide net that we cast -- television promotion, focused interactive marketing on our websites, and a mechanism for data collection and social sharing-- Dukky has rounded out an offering for us that has driven tens of thousands of dollars in direct marketing revenue."
After working with Dukky so successfully, the partnership is now being extended to include up to 19 of FOX 8's sister stations, owned by Local TV LLC.
"Social sharing is very important to us at FOX 8 as well as our station group," says Guerrieri. "In fact, we see quantifiable returns in both news audiences as well as revenue relating to the ability for our fans to share news, deals, offers and any other user benefit they find. Dukky helps us broker that relationship to get our clients' offers in front of our users and their peers in a fun, exciting, and lucrative way."
About Dukky
Dukky allows marketers to leverage multiple online and/or offline marketing channels to maximize campaign reach and consumer engagement, while funneling all respondents into one central portal. Dukky's SaaS Platform serves as this central portal, tracking and measuring response from every facet of a marketing campaign – from direct mail and print ads to email, social media shares, pay-per-click, and display ads.
For more information visit http://www.dukky.com or contact us at info(at)dukky(dot)com
About Local TV LLC
Local TV Holdings LLC is a broadcast holding company that currently owns or operates 20 stations across the United States. Local TV Holdings is owned by Oak Hill Capital Partners, management and a consortium of bankers and high yield lenders who are as enthusiastic about our future as we are. Stay tuned.
###