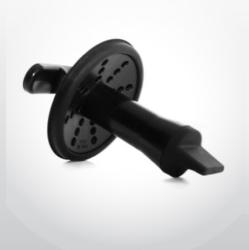 Elk Grove Village, IL (PRWEB) July 19, 2011
The last thing anyone wants at a summer BBQ is a trip to the emergency room. Whether it's a caterer or a potluck guest, last-minute food preparation can lead to minimal thinking when it comes to kitchen safety. Whipping up a quick potato salad can result in potato peels and celery stalks in the sink, a quick spoon accidentally tossed in and gets overlooked – and on goes the disposal. We don't even think twice before we do it, but when it's time to turn the garbage disposal on there's suddenly a hodgepodge of items in the sink. And now there's a nicked up spoon, a possibly damaged disposal or worse – a cut up hand from an impulse attempt to grab the spoon.
This inspired T.J. Dombrowski, whose kitchen is a frequent meeting place for friends. Not only can these objects damage a disposal, but it's easy for fingers, long hair and loose clothing to get caught, potentially resulting in injuries. Says Dombrowski, "I made it my goal to prevent injuries due to garbage disposals. Every day that went by without a proper drain cover was another day that something terrible could happen." Fortunately, Dombrowski saw his inspiration through.
DISPOSE-IT-GUARD by Disposal Guard Inc. is a heavy duty stopper/strainer that is used in place of a garbage disposal stopper. It's not just a stopper and strainer, though, but also a safety poker and scraper. A simple twist of the uniquely designed T-handle opens or closes the strainer, while the plunger is designed to avoid all contact with the garbage disposal blades even while it's running. Just stick it in the disposal, and it's ready to go.
DISPOSE-IT-GUARD is 100% made in America and after two years of product testing, Disposal Guard Inc. and T.J. Dombrowski himself proudly and confidently stand behind their quality product. DISPOSE-IT-GUARD is available to purchase on DisposalGuard.com and select home and hardware stores nationwide.
MSRP $16.95
A demonstration of DISPOSE-IT-GUARD is also available to view on YouTube
About Disposal Guard Inc:
Safety & Convenience Made Simple®. Disposal Guard Inc. is based in Elk Grove Village, IL. The DISPOSE-IT-GUARD all-in-one sink stopper, strainer, safety poker and the scraper is 100% manufactured in the US. For more information please visit http://www.DisposalGuard.com.
###