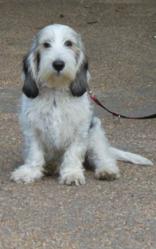 Mason, OH (PRWEB) July 19, 2011
Procter & Gamble (P&G) Pet Care is proud to unveil the name of the new V.P. of Canine Communications – Pawl Griffin, or Griffin for short. Griffin's name is a combination of Iams' founder Paul Iams and the new VP's breed, a Petit Basset Griffon Vendeen (PBGV).
Via the Iams and Eukanuba Facebook pages, 4,900 names were suggested and 2,320 votes were cast from June 29 through July 18. The two most popular names were Griffin and Pawl with more than 1,280 votes. As incentive for consumers to participate in the campaign, P&G Pet Care pledged to donate $1 to America's VetDogs for every name recommendation and vote cast. Because of the level of engagement, P&G Pet Care is pleased to be donating $10,000 to the organization.
"We appreciate and thank all of the thousands of Facebook fans who helped name Griffin while supporting America's VetDogs," said Vicki Seiler, external relations associate, P&G Pet Care. "Griffin is destined to be a great V.P. of Communications especially since his initials are PG. We look forward to watching him grow into his role over the next 10 months."
Griffin will officially step into his new position next spring, when Euka, the current P&G V.P. of Canine Communications, retires after an amazing eight years of dedicated service. Between now and next spring, Euka will help train Griffin as he learns his new responsibilities associated with serving as the ambassador for Iams and Eukanuba.
For more information and updates on Griffin, please visit http://www.facebook.com/iams or http://www.facebook.com/eukanuba.
About P&G Pet Care
For more than 60 years, P&G Pet Care (NYSE:PG), the maker of Iams and Eukanuba, has enhanced the well-being of dogs and cats by providing world-class quality foods and pet care products. To learn more about Eukanuba® and Iams® Dog & Cat Foods or general pet care and nutrition information, call the Iams Consumer Care Center at (800) 446-3075. You can also visit us on the Web at http://www.iams.com.
About Procter & Gamble
Four billion times a day, P&G brands touch the lives of people around the world. The company has one of the strongest portfolios of trusted, quality, leadership brands, including Pampers®, Tide®, Ariel®, Always®, Whisper®, Pantene®, Mach3®, Bounty®, Dawn®, Gain®, Pringles®, Charmin®, Downy®, Lenor®, Iams®, Crest®, Oral-B®, Duracell®, Olay®, Head & Shoulders®, Wella®, Gillette®, Braun® and Fusion®. The P&G community includes approximately 127,000 employees working in about 80 countries worldwide. Please visit http://www.pg.com for the latest news and in-depth information about P&G and its brands.
# # #