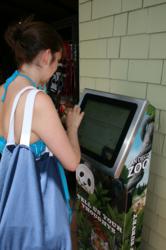 real-time data advances the development of improvement strategies and affects bottom line performance
Long Beach, CA (PRWEB) July 21, 2011
Customer surveys, whether carried out face-to-face or using a modern electronic feedback device, have long been used by tourist attractions to help improve the quality of service and user experience for customers. With over five million guests every year, San Diego Zoo Global knew that by improving the quantity and quality of customer feedback received from Avius Insight, they could ensure that the high expectations of visitors could be fulfilled.
Traditional methods for obtaining customer feedback, typically involving a member of staff and a clipboard, have distinct disadvantages when compared to electronic feedback devices, especially when dealing with such a large customer base. Most significantly, can provide data in real time, allowing the management to react immediately should a problem arise.
With this in mind, San Diego Zoo Global decided to install cutting-edge 'Avius Insight' touch-screen survey kiosks throughout the San Diego Zoo and the San Diego Zoo Safari Park. Positioned in high footfall areas, the kiosks are clear and intuitive, allowing customers to give their honest opinion about their visit.
The Zoo's survey results in a recent three month period produced nearly 3800 customer feedback responses, compared to less than 200 responses captured over the same period of time in previous years, using a nontechnology-based survey method.
San Diego Zoo now captures feedback on all aspects of the visitor experience, including food service, staff performance, car parking and animal attractions and allows the customer to add suggestions and any other comments they wish to share.
Data is accurately captured, aggregated and sent to a secure web-based reporting tool within seconds, allowing staff at the Zoo to see their survey results on demand in real-time. The dramatic increase in credible responses received during the past twelve months has created a tremendous opportunity for the Zoo to drive its current and future definition of the guest experience.
Adam Ringler, Director of Performance Improvement at the Zoo comments: "Seeing the guest feedback was critical in the evaluation of how to move forward with new projects. We also now have a better understanding of length of stay information, and can see trends when we make changes to certain exhibits. We are pleased with our ability to act on the reliable, real-time information we've received from the people who matter the most to our operation – our valued guests. From this perspective, Avius Insight has changed the way we do business."
Lance Paul Fisher, Chief Marketing Officer for Avius America, supplier of the Avius Insight solution added: "We're enabling our clients to engage their customers on-site, without the need for incentives. Client reaction to the quality of feedback they receive with Avius Insight has been consistently positive, most often citing how the high quality of accurate, real-time data advances the development of improvement strategies and affects bottom line performance."
Demand for customer feedback technology is rapidly increasing, with retailers, restaurant management groups, hospitality owners, entertainment venues, healthcare organizations and financial institutions eager to better engage their customers, exceed expectations, stay trend-progressive and consistently relevant.
Avius America LLC, suppliers of the Avius Insight survey kiosks, has recently quadrupled its sales force inside the USA and Canada in order to keep pace with increasing demand for their new technology. The company plans to expand its wide range of customer feedback products early in 2012, with product launches planned at the International Association of Amusement Parks and Attractions (IAAPA) in Orlando in November 2011.
For further information, call: 877.495.AVIUS (2848) or email: info(at)aviusinsight(dot)com
Notes to Editors:
Avius America has its headquarters in Long Beach, California with Avius offices in Whitefish, Montana; Los Angeles, CA; San Francisco, CA; Toronto, Ontario. Outside of the Americas, the Avius Insight survey kiosk system is provided by Avius Experience Ltd, which is headquartered in Bournemouth, England.
Visit http://www.aviusinsight.com
###