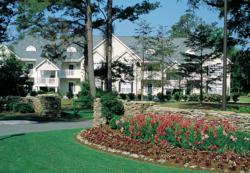 "Late summer is a great time to plan an affordable family vacation to Myrtle Beach with family," said Elise Ogden, property manager of the Village of the Glens. "This is a great deal for families looking to stretch their summer vacation dollars."
Myrtle Beach, S.C. (PRWEB) July 20, 2011
The fireworks and festivities of the Fourth of July have faded away but it's too early to put away those suitcases just yet. Late summer and early fall along the Grand Strand is still prime time for those in search of affordable family vacations with outdoor adventures, new activities and fun events set against a natural backdrop of warm sunshine and cool ocean breezes.
Affordable family getaways are waiting at The Village at the Glens in Myrtle Beach, S.C. A spacious two-bedroom villa is just $799 for seven nights and a three-bedroom villa is only $899 all inclusive, with no additional taxes or other fees to pay.
These modern, spacious villas located just minutes from the ocean and Myrtle Beach attractions offer a relaxing break from the beach crowds and room to spare for far less than oceanfront accommodations. Located next to picturesque Heather Glen Golf Links, the villas are roomier than beachfront lodging and feature homestyle amenities including two double beds in each bedroom, two full baths, a full kitchen, washer and dryer, and a large living and dining area. Guests may also enjoy access to all on-site resort facilities including a pool and grilling areas, plus discounted golf fees to some of the best courses along the beach at the Glens Golf Group's four award-winning Myrtle Beach golf courses.
Off the links, visitors to the Village at the Glens can take advantage of Myrtle Beach coupons and discounts for even further savings to a variety of popular local entertainment options including Legends in Concert and Broadway at the Beach. And afterward, take just a short drive into the heart of Myrtle Beach and stroll the nationally-acclaimed Oceanfront Boardwalk and Promenade with its classic arcades, shops and nightly live entertainment.
Casual fishing fans can take pole in hand for some great pier and surf fishing on the beach while real outdoor enthusiasts can make the most of two favorite pastimes with a combined day of golf and offshore fishing. Starting at around $300 per person, the 4-day/3-night Glens Golf & Ocean Fishing package includes a half day of hands-on rod and reel charter-boat fishing offshore and one morning or afternoon round at any of the four award-winning Glens Golf Group courses (Heather Glen, Glen Dornoch, Shaftesbury Glen, Possum Trot), plus a free afternoon round of golf at Heather Glen after the day of fishing.
For more information on the Village at the Glens and family getaway packages or the Glens Golf Group, visit http://www.glensgolfgroup.com.
###