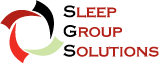 You can stop the snoring in a patient, but that doesn't make the sleep apnea disappear.
(PRWEB) July 20, 2011
Sleep Group Solutions (SGS), a leader in dental sleep medicine continuing education and sleep apnea (OSA) screening technology is launching a sleep study club, like no other. Sleep Group Solutions has revolutionized the sleep industry by incorporating top level education, client support, innovating technologies, and now, a common ground to set the bar high in dental offices across the globe.
Dr. Michael Hnat, a dentist in Pittsburgh has been screening and treating his patients for sleep apnea for the past 4 years. As a dentist, Dr. Hnat feels the airway is his responsibility, and each patient gets an evaluation, whether they know it or not. "We screen each patient with forms, and a visual exam. If the neck, tongue, or even BMI is larger than average, it's a red flag." says Dr. Hnat. After obtaining many successful cases, Dr. Hnat is a leader in his community in the fight against OSA. When approached by Sleep Group Solutions to lead a study club in his state, Dr. Hnat was excited to even the playing field.
"Properly practicing sleep is the motive. You can stop the snoring in a patient, but that doesn't make the sleep apnea disappear. Its a process, and I want to make sure doctors are properly treating. The goal is to train them the way I was trained," Dr. Hnat shares. The first SGS Study Club meeting will be held this week in Pittsburgh, PA on the 22-23 of July. Register here.
After attending an SGS seminar last year, Dr. Michael McMunn was inspired to begin the Virginia Academy of Dental Sleep Medicine. His performance and level of expertise in the industry caught the attention of SGS, and Dr. McMunn was asked to lead a study club himself. "After I returned from the SGS course, I felt it was my duty to inform my 6,000+ Virginia dental colleagues of our responsibility." says McMunn on his passion to save his patients lives. Dr. McMunn and Dr. Hnat will kick off the SGS study clubs this summer. To join a study club, or start one in your state, email Holly(at)SleepGS(dot)com.
About Sleep Group Solution
Sleep Group Solutions is an airway diagnostic technology company serving the needs of physicians and dentists interested in screening, diagnosing and treating sleep apnea and other upper airway disorders.  Sleep Group Solutions offers the latest screening and diagnostic equipment solutions for patients with allergy, sinus congestion, rhinitis, deviated septum, nasal polyps, snoring and sleep apnea.  SGS offers the most comprehensive dental sleep medicine CE seminars in the industry focused on teaching dentists the protocols needed to make the treatment of snoring and sleep apnea part of their practice.  SGS offers sleep study interpretation, oral appliances (Norad Boil & Bite, Respire), online directory 1800SleepLab.com and online marketing at Sleeptest.com. SGS is the manufacturer of the Eccovision Systems Rhinometer and Pharyngometer.
About Dr. Hnat
Michael F. Hnat, D.M.D. has advanced training and certifications in the field of dental sleep medicine. An integral focus of his McMurray practice is oral sleep appliance therapy. He is an active member of The American Academy of Dental Sleep Medicine and member and preferred provider clinic from Sleep Group Solutions – national medical dental sleep medicine network. For more information visit progressivedentalsolutions.com or call 724-942-5630.
About Dr. McMunn
Dr. Michael McMunn has been providing outstanding dental care since 1978. He graduated from Edinboro University before attending the Medical College of Virginia/Virginia Commonwealth University. He also completed a General Practice Residency at the Michael Reese Medical Center. To stay up-to-date with the latest advancements in the field of dentistry, Dr. McMunn maintains memberships with such professional organizations as the International College of Dentists, Pierre Fauchard Society, Academy of General Dentistry, International Congress of Oral Implantologists, VA Academy of Sleep Medicine and the Implant Forum of Virginia. Log onto DrMcMunn.com for more info or call 804-740-7212.
# # #