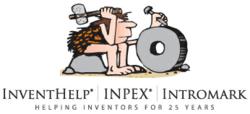 Pittsburgh, PA (PRWEB) July 27, 2011
InventHelp®, America's largest inventor service company, announces that one of its clients, an inventor from Arizona, has designed a device that could save a restaurant server from having to take customers' orders by traditional pen and paper. This invention is patented.
"Blackwell Order Master" could enable the server to send customers' orders directly to the kitchen or bar by way of a touchschreen display on a hand-held computer. This design could enhance the accuracy of food and drink orders and enable a server to accommodate special requests more efficiently. The device could minimize ordering mistakes and mix ups, as well as ensure that customers receive their checks promptly.
Blackwell Order Master would consist of a rectangular, plastic unit. The face of the unit would be occupied by buttons and an illuminated, widescreen, color display. A battery indicator and POWER and EXIT buttons would be positioned along the bottom of the unit. The touchscreen display would incorporate several different screens to be used to take orders, manage individual tables and tender sales. The display would be operated by an accompanying stylus. The unit would feature a drink screen, modifier screen, appetizer screen and an entrée screen for order taking. After an order is taken, all of the orders would be displayed on Screen 1, which would feature the table number at the bottom left. The order would be submitted via a wire transmission to the bar or kitchen. The server would also be able to tender a sale or split a ticket by pressing the Tender Sale or Split Ticket box.
InventHelp® is attempting to submit the invention to companies for review. If substantial interest is expressed, the company will attempt to negotiate for a sale or royalties for the inventor. For more information, telephone Dept. 07-PHO-910 at (800) 851-6030.
# # #