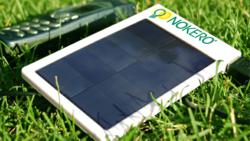 We've heard of villagers traveling by foot and by boat, sometimes for days, to reach a place where they can charge their phones.
Denver, CO (PRWEB) July 21, 2011
The exponential growth of cell phone use in emerging markets has been well-documented.
What's less known is that 500 million of the world's cell phone owners have no access to electricity, therefore no way to reliably, affordably charge their phones, according to the GSM.
The new, low-cost P101 and P102 solar Power Panels from Nokero International Ltd. seek to change that.
"We've heard stories of villagers traveling by foot and by boat, sometimes for days, to reach a place where they can charge their phones," said Nokero founder Steve Katsaros. "In other places, people pay exorbitant prices to have their phones charged by vendors who use diesel generators and car batteries."
Villagers in off-grid areas pay local vendors about US $2-$5 per kilowatt hour to charge a phone, according to the Carbon War Room. That's compared to 10-20 cents per kWh in the average US household. The recharging stations use fossil-fuel generators to create power, polluting the air and creating unnecessary expense for people who only make dollars a day.
Sunshine provides more than enough power to charge these devices, but until recently there was not a solar product that was powerful enough – yet affordable enough, to be a viable alternative to fossil-fuel methods of charging.
A solar solution
Nokero International's high-tech solar power stations are specifically designed to charge cell phones and other small devices while remaining affordable to users who live in off-grid, often impoverished regions of the world.
To do this, Nokero streamlined the Power Panel design to increase its electrical power while maintaining low cost. Its 1-watt version (the P101) can charge a typical cell phone in three hours. The 2-watt version (the P102) can charge a typical cell phone in 1.5 hours.
The panels have no battery – which removes much of a solar panel's cost. They are made of high-temperature ABS plastics and high-grade, super efficient solar panels that last for 5-10 years if well cared for. The pocket-sized Power Panels are USB compatible and come with phone adapters. While they don't charge smartphones, they DO charge the kind of phone used by the 500 million people worldwide who have cell phones but live without electricity (i.e. Nokia, Samsung, Sony etc.).
Improving lives and reducing poverty
Empowering the world's poor to charge their cell phones has beneficial economic repercussions. The cost of the original purchase of a cell phone charger can pay for itself in a matter of months, and afterward it saves the user from paying exorbitant re-charging costs.
USAID leaders have stated that food security is the number one priority, and research in Ghana and elsewhere shows that cell phone use can significantly improve farming practices and education.
Using solar power to charge cell phones in off-grid, impoverished regions can:

Improve health by removing fossil fuel pollutants from the air
Increase farm and food production
Reduce family living expenses
Provide small and micro-business opportunities for local vendors
An economic opportunity
Estimates place the total market opportunity for solar cell phone chargers upwards of US $10 billion. The critical component is affordability – that's why Nokero's Power Panel bulk pricing is ultra-competitive.
The Power Panels are available online at http://www.nokero.com for $29 and $49, however these "sample-only" prices are well above the target MSRP for the product as it goes to market.
Nokero is working with NGOs, governments, and commercial distributors around the globe to help bring this game-changing new technology to market.
Accredited journalists can contact Nokero to receive a review sample.
###