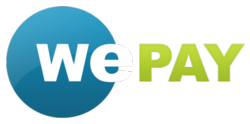 Palo Alto, CA (PRWEB) July 20, 2011
News Facts:

WePay, the hassle-free way to collect payments online, today announced WePay Stores, a new tool that allows merchants to start selling items online in less than a minute. No merchant account is needed and there are no set up fees, contracts or monthly fees.
Merchants can create a simple store on WePay or sell items from their own website, without any technical ability or programming experience.
WePay provides two ways to sell items:
o WePay Stores – Simply add items to your store by uploading an image, adding a description and setting a price. WePay handles the payments, hosting, shopping cart, etc.
o Embeddable Store – Create a store on WePay, and embed it in your existing website or blog with a single line of code. Buyers can shop directly on your site.

WePay provides an API to merchants looking for complete flexibility and customization. Merchants looking for a better and simpler way to accept payments on their site will be able to integrate WePay's easy-to-use checkout API. WePay will begin releasing the API to a small group of select merchants today. If you would like more information, contact api(at)wepay(dot)com.
For more information on WePay Stores and to start selling online today, visit http://www.wepay.com/merchant.
An Example of WePay Stores in Action:

Startup Tees was born with a simple mission: help fans buy and wear the gear of their favorite startups.
The company built an online store on WePay in late June, and embedded the store on http://startuptees.com on July 11, 2011.
Prior to using WePay Stores, Startup Tees considered various other options, but none allowed them to get up-and-running as quickly, effortlessly, and inexpensively as WePay.
Within one day of launching, Startup Tees had sold more than 20 shirts from their online store and generated hundreds of dollars in revenue.
Quotes:
Attributable to Bill Clerico, CEO and co-founder of WePay
"Before WePay, it was incredibly difficult and expensive to sell things and accept payments online. By combining our hassle-free payments platform with an easy to use online store-builder, we now allow people to start selling items and accepting payments in under a minute."
Attributable to Rich Aberman, COO and co-founder of WePay
"We want to streamline the process of collecting payments online, whether you're charging dues, accepting donations, or selling items. Before WePay, it was a lot harder than it needed to be. Now, with WePay, a team captain can easily bill her teammates for league fees, or a would-be-entrepreneur can quickly set up an online store. We just make it easy."
Attributable to Zach Johnston, co-founder of Startup Tees
"We wanted to make a site for our T-shirt store, but we didn't want to spend hours wrestling with PayPal and trying to integrate it with our products and website. We'd rather focus on our core business. So, we decided to use WePay to accept payments and manage inventory. It literally took us a few minutes to build a store on WePay and drop it into our site – and it brought in a few hundred dollars of revenue within the first few hours."
About WePay:
WePay lets you collect payments without the hassle. With WePay, you can start collecting money online in under a minute; no merchant account, website, or programming required. WePay offers easy-to-use tools to sell items, bill people, sell tickets and accept donations. And WePay provides great customer service by real people. Founded by Bill Clerico and Rich Aberman in 2008 and backed by August Capital, Highland Capital Partners and YCombinator, WePay is headquartered in Palo Alto, Calif.
For more information, check us out at http://www.wepay.com. You can also follow us on Twitter and Facebook.
Contact:
Julia Kung
650-521-5936
wepay(at)innercirclelabs(dot)com
###