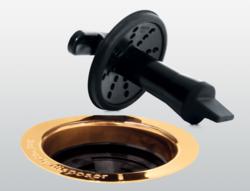 Elk Grove, IL (PRWEB) July 21, 2011
If you're a motor home owner, you already know that when shopping for kitchen appliances, safety, practicality, and comfort should be valued above all else. Because motor home owners are literally "on the go," they have no time to be burdened with problems in the kitchen that could easily be avoided. This is where the DISPOSE-IT-GUARD comes in handy. It is a garbage disposal accessory that can not only prevent injuries, but can potentially save small items that fall into the sink, reduce garbage disposal noise and smell, and keep a disposal working efficiently.
According to a statistic, most home accidents happen in the kitchen, and inside a motor home, these risks are even greater, since the motor home can potentially be moving. This makes it easier for something to fall into the sink and damage the disposal, and also, for someone standing in front of the sink to be injured while the disposal is running. These risks inspired T.J. Dombrowski to create the DISPOSE-IT-GUARD. Not only can objects damage a disposal, but it's easy for fingers, long hair and loose clothing to get caught, potentially resulting in injuries. The DISPOSE-IT-GUARD can prevent these problems and give motor home owners the practical solution that they seek. Dombrowski states, "There weren't the right garbage disposal accessories out there. I made it my goal to prevent injuries due to garbage disposals. Every day that went by without a proper drain cover was another day that something terrible could happen."
Fortunately, Dombrowski saw his inspiration through. DISPOSE-IT-GUARD by Disposal Guard Inc. is a heavy duty stopper/strainer that is used in place of a garbage disposal stopper. But it's more than just a stopper – DISPOSE-IT-GUARD is a stopper, strainer, safety poker and scraper all in one! A simple twist of the uniquely designed T-handle opens or closes the strainer, while the plunger is designed to avoid all contact with the garbage disposal blades even while it's running. Just stick it in the disposal, and it's ready to go.
DISPOSE-IT-GUARD is 100% made in America and after two years of product testing, Disposal Guard Inc. and T.J. Dombrowski himself proudly and confidently stand behind their quality product. DISPOSE-IT-GUARD is available to purchase on DisposalGuard.com and select home and hardware stores nationwide.
MSRP $16.95
A demonstration of DISPOSE-IT-GUARD is also available to view on YouTube
About Disposal Guard Inc:
Safety & Convenience Made Simple®. Disposal Guard Inc. is based in Elk Grove Village, IL. The DISPOSE-IT-GUARD all-in-one sink stopper, strainer, safety poker and the scraper is 100% manufactured in the US. For more information please visit http://www.DisposalGuard.com.
# # #