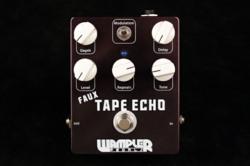 Portland, Or (PRWEB) July 20, 2011
ProGuitarShop is proud to add Wampler Pedals to their extensive line of boutique effects. Since PGS has become one of the foremost leaders in boutique effects pedals and Wampler has made a name as one of the hottest manufacturers, it's only natural that the two meet. The exciting lineup of toneful overdrives, fuzz pedals, delays and other effects from Wampler is an exciting addition to the already impressive array of products offered at the ProGuitarShop website and retail store.
PGS is the only local retailer in Portland, Oregon to offer Wampler Pedals and now all of their website customers too will benefit from the top-notch video demos of some of the boutique effects world's most talked about pedals. ProGuitarShop is excited about the new lineup and even now are undertaking sound tests in order to present Wampler Pedals in their already impressive lineup of over 300 video demos.
Check out http://www.proguitarshop.com or come into ProGuitarShop in the Pearl District of downtown Portland for more information on these fantastic effects.
###