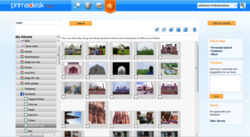 Novato, California (PRWEB) July 20, 2011
Primadesk, Inc., a leading provider of personal content management solutions, today announced the ability to search, drag and drop and view photos from a single location, whether located on a personal computer or in the cloud. Primadesk supports Google+ (through Picasa), Picasa, Facebook, Flickr, Kodak, Photobucket, Shutterfly, SmugMug, Snapfish, Webshots and other popular online photo services. Now, for the first time, over 500 million people, managing billions of photos, can easily search across their entire collection of photos regardless of location, and drag and drop photos between services or from their desktop, with only one product and with a consistent interface across services.
"We make it simple for anyone to manage their online photos," said Srinivasa (Venky) Venkataraman, founder and CEO of Primadesk. "With the popularity of Google+, many of our customers have asked for a way to move their photos from Facebook to Google+ and we now have a solution. Of course, we also support all of the other popular online photo services with the ability to easily move and search someone's entire collection from within or between services."
With Primadesk Photo Management, users can:

See all of their photos in one place — regardless of where they are. No need to switch from service to service to find vacation or family photos.
Easily move photos from one service to another with simple drag and drop.
Search all photos, online or on the desktop, with a single search.
Primadesk makes your online life easier to manage by giving users the ability to search, manage and backup online accounts with one simple interface, no matter where the content is or what device is used. The free Primadesk Beta app is available now at http://www.primadesk.com.
About Primadesk, Inc.
Primadesk makes online life easier to manage, enabling users to search, manage and backup
personal cloud data from anywhere, whether it is from a personal computer, tablet or
smartphone. Primadesk was founded in 2009 by two entrepreneurs who recognized the
growing need for making Internet‐based applications and online information secure, easier to use and to interact with. For more information on Primadesk, please go to http://www.primadesk.com
Press Contact:
press(at)primadesk(dot)com
###