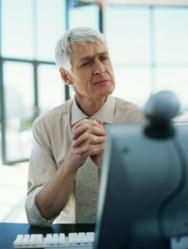 The streaming component is a perfect fit for small to medium sized businesses...
Malvern, PA (PRWEB) July 21, 2011
Cenero announces the availability of a new managed service for recording and replaying multipoint video meetings made through Auralink's High Definition Video Meeting tool. Designed for businesses that need to create a re-playable record of video meetings, such as law firms offering remote deposition services or sales organizations wanting to reach hundreds of viewers by streaming a presentation in real time, Auralink will now allow subscribers to record a multipoint video conference showing up to nine participants for eight to ten hours of continuous video. These recordings can be streamed online in real time or replayed on demand from the Auralink web site. The recordings can also be transferred on request to the subscriber's site or made available for download.
Several law firms are already using the embedded power of Auralink to provide remote deposition and witness interview services using only a laptop at each location fitted with an off-the-shelf camera and a microphone/speaker device. These services will be greatly enhanced by the addition of the new recording and playback options. In many instances the presence of a video recording team at any of the linked locations can be eliminated altogether, and the resulting recordings will be available within minutes after the conclusion of the video meeting. The files provided are in the popular Flash format, and can be used as audio input for automated transcription services.
"Auralink clients can now build their own video libraries", said John Stuart, Auralink Technology Manager. "To be able to record video of sales meetings, new employee training sessions, HR roll outs, or interviews is a very powerful capability".
The service expansion also allows Auralink users to stream video and content to an online audience. "The streaming capabilities of Auralink fits a place in the market that has been neglected by the larger service providers", said Michael Cosgrave, Auralink Product Manager. "The streaming component is a perfect fit for small to medium sized businesses or those companies who might have a requirement of a smaller number of concurrent viewers".
Auralink is a flexible fully functional video meeting tool designed to be integrated into a customer's own web site for seamless desktop and mobile video conferencing services. Powered by Vidyo™, the award-winning pioneer of H.264 SVC-video encoding technologies, Auralink delivers a business class experience at an entry level cost.
###