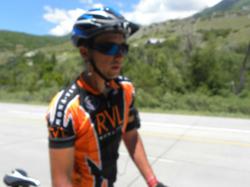 "Josh's story is inspiring," says Dr. Steven Granger, "It really gives us hope for what our patients with this kind of serious injury may be able to achieve."
Salt Lake City, UT (PRWEB) July 20, 2011
Josh Morros has decided that he is going to make a difference. He began a 2,700 mile bike ride on June 20th in Reno, Nevada, that will span 10 states and end at the headquarters of the Brain Injury Association of America in Vienna, Virginia (near Washington, D.C.). Josh, a survivor of traumatic brain injury, has set a goal to create greater awareness and increased support for those suffering from serious brain injuries through his ride.
Two and a half years ago, Josh Morros was a name you would have recognized in the off-road racing world. At the age of 16, he went from AMA amateur status to being a professional racer after signing with Factory Kawasaki Team Green. He raced with some of the biggest names in the sport and became an international off-road racing star. Then, in August 2008, his world changed.
While competing in an AMA National Hare and Hound competition, Josh crashed his motocross bike while going over 80 miles an hour. Comatose, Josh was rushed to Intermountain Medical Center in Salt Lake City, UT, where he was diagnosed with a severe case of traumatic brain injury (TBI) with negligible brain activity.
Josh's coma lasted 24 days, but it would be another 20 days before he uttered his first words: "I love you, Mom." Despite doctors telling him to be prepared for the worst, Josh worked diligently to recover. A short three months later, Josh was back on his motorcycle. Family and doctors credit Josh's diligence and never-quit attitude.
"Josh's recovery — his ability and drive and strength — is remarkable," says Dr. Thomas White, a trauma surgeon from Intermountain Medical Center who took care of Josh. "Almost all of our patients who survive this type of injury suffer from some sort of disability. So what Josh is doing is amazing."
According to the National Institutes of Health, each year in the United States there are nearly 1.4 million people who suffer a traumatic brain injury, and of those injured, about 50,000 die. Survivors more often than not suffer from cognitive, behavioral, and communicative disorders and some develop long-term disorders.
"Josh's story is inspiring," says Dr. Steven Granger, another trauma surgeon at Intermountain Medical Center. "It really gives us hope for what our patients with this kind of serious injury may be able to achieve. It's commendable that he's devoting his time to raising awareness for brain injury."
Before his accident, his parents had studied nutrition in an effort to help their wiry teenage son to gain some weight. Their efforts included supplementing Josh's nutrition with MonaVie—a health drink that provides antioxidants, vitamins, and minerals.
Despite still being in recovery from his accident, Josh expects to complete the challenging ride on July 29. He is coordinating with local groups and others along the 2,700 mile ride to share his story and to put a spotlight on the need for greater awareness of TBI. Josh has set a goal to raise $250,000 during the ride to give to The Brain Initiative, The Brain Injury Association, and Safe Kids.
About Because I Can Ride
There's more to Josh's ride than just proving he can do it. Josh is determined to help others who have suffered similar accidents and to inspire a more public dialogue about TBI. To find out more about Josh and his ride—including a schedule for his stops—visit http://www.becauseIcanride.org.
About Brain Injury Association of America
The Brain Injury Association of America is the voice of brain injury. Through advocacy, education and research, BIAA and its nationwide network of more than 40 chartered state affiliates bring help, hope and healing to the millions of Americans who have a lifelong disability because of brain injury, as well as their families and the professionals who serve them. For more information, go to http://www.biausa.org, or call the National Brain Injury Information Center at 1-800-444-6443.
Contact:
Teresa Morros
775-771-1540
livetowin09(at)yahoo(dot)com
###