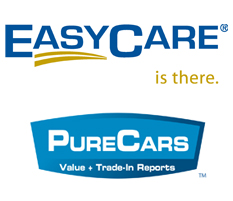 Atlanta, GA (PRWEB) July 26, 2011
EasyCare® and PureCars™ announce joining forces to help provide a more effective way for consumers to receive complete information on vehicles they are considering. EasyCare CoVideo now enables dealers to automatically deliver customized and personalized video messages bundled with comprehensive PureCars Value Reports to consumers inquiring about pre-owned vehicles online. The consumer will receive a CoVideo message from a manager along with a comprehensive PureCars Value Report on their vehicle of interest. The PureCars Value Report showcases the vehicle's value drivers such as below market price, certification, accident and ownership history of the car, truck, or SUV, a listing of all options with photos, a pricing and value comparison of similar vehicles currently for sale in the local market, as well as historical value and price data on vehicles that have recently sold.
Jeremy Anspach, President of PureCars said, "We're proud to have EasyCare and their CoVideo application as an integrated partner. With our two technologies working seamlessly together, a bond between the customer and the dealer will be established before they even visit the dealer's lot."
Larry Dorfman, CEO of EasyCare added, "The main driver of this partnership between EasyCare and PureCars is our commitment to provide a better buying experience for shoppers at EasyCare dealerships. The customized and personalized EasyCare CoVideo message, combined with comprehensive PureCars Value Reports, will give EasyCare dealers a competitive advantage during the most critical step of the car shopping phase, when customers are making their first contact with a dealership."
EasyCare and PureCars aim to extend this alliance in ways that will further develop customer confidence when shopping for pre-owned vehicles. For questions, or to request additional information, please contact EasyCare or PureCars, contact information is listed below.
About EasyCare, an Automobile Protection Corporation – APCO Brand (http://www.easycare.com)
Founded in 1984, Automobile Protection Corporation – APCO is the leading independent provider of automotive benefits specifically created to enhance a consumer's vehicle buying and ownership experience in ways that create long-term bonds between the consumer and their dealership. APCO's benefits are provided under the EasyCare brand as well as on behalf of some of the most preeminent manufacturers in the automotive industry, including Jaguar, Land Rover, and Mazda. EasyCare benefits include vehicle service contracts, dent removal coverage, GAP insurance, key replacement coverage and personal concierge service.
EasyCare is the only vehicle service contract provider to have been designated both a "MOTOR TREND Recommended Best Buy" and to maintain a Better Business Bureau rating of A+. With over 2.8 million contracts currently in force, APCO has paid over $2 Billion in claims, approximately $180 Million of which were in the last 12 months. EasyCare is the exclusive provider of the MOTOR TREND Certified Advantage program, "a better way to buy a better car," that allows franchise dealers to provide a highly valued certification program for their non-franchise pre-owned vehicles.
About PureCars™
PureCars, a trusted provider of value based pre-owned vehicle research, allows car shoppers to search for a vehicle's unique 17-character Vehicle Identification Number (VIN) on PureCars.com and instantly see a PureCars Value Report on any used car, truck, or SUV. From Price and Mileage Analysis, to Vehicle Certification, Accident + Ownership History, and a current local and historical market price and value comparison, the PureCars Value Report offers customers the value driven confidence they demand when shopping for their next vehicle. In addition to displaying free Value Reports on PureCars.com, subscribing dealers go further, linking customers to free PureCars Value Reports directly on the used vehicle detail pages right on their dealer's own website. Non-subscribing dealers only offer Value Reports on PureCars.com, where customers may purchase them for $14.95 each. For additional information on how PureCars Value Reports help dealers and customers through the research, engagement, and closing phases of the sales process, please visit http://www.PureCars.com or call (877) 860-7873. Make sure to also ask about our new lead-generating PureCars Trade-In Reports.
# # #