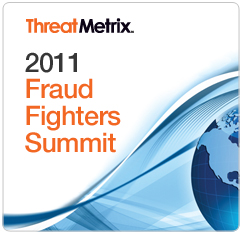 Los Altos, CA (PRWEB) July 20, 2011
ThreatMetrix™, the fastest growing provider of cloud-based fraud prevention solutions that do not require personally identifiable information (PII), today announced its upcoming user conference, "Defeating Online Fraud and Promoting E-Commerce Together." The event, to be held at the Monterey Plaza Hotel and Spa in Monterey, Calif. from October 9-10, will educate attendees on proven strategies and best practices to protect their businesses and accelerate e-commerce using the ThreatMetrix™ Cloud-Based Fraud Prevention Platform.
"Hosting our first global user conference is a natural evolution in ThreatMetrix's rapid growth and development," said Bert Rankin, vice president of marketing, ThreatMetrix. "Members of the ThreatMetrix user community and prospects will benefit by learning proven fraud fighting strategies and best practices from recognized industry thought leaders, industry peers, and ThreatMetrix product experts. At this conference we intend to convey how ThreatMetrix is leading the charge to protect businesses with the most effective first perimeter of defense against online fraud."
The conference will feature:

Reed Taussig, ThreatMetrix CEO and president, who will formally open the summit and provide an industry overview.
Rhonda MacLean, founder of MacLean Risk Partners LLC, a consulting firm that provides strategic advisory services. Prior to founding MacLean Risk Partners, MacLean was the global leader of Information Security and Risk for Barclays, PLC in London, England and Bank of America, headquartered in Charlotte, NC. For over 12 years MacLean was responsible for the respective banks' security policies; information risk management; security and risk technology implementations; cyber investigations; computer forensics; and general information risk management awareness.
Steven Boutelle, Lieutenant General, U.S. Army (Retired) and former chief information officer of the U.S. Army, responsible for the U.S. Army's use of information technology.
Julie Conroy McNelley, senior analyst with the Aite Group's Retail Banking practice, covers fraud, data security, anti-money laundering, and compliance issues. McNelley brings to Aite Group more than a decade of hands-on product management experience working with financial institutions, payment processors, and risk management companies.
ThreatMetrix customer presentations representing financial services, e-commerce and social networking/Web 2.0 companies.
ThreatMetrix product development roadmap presentation by Alisdair Faulkner, chief products officer, ThreatMetrix.
Online registration for the ThreatMetrix 2011 Fraud Fighters Summit will be available beginning August 1 at http://threatmetrix.com/news-events/2011-fraud-fighters-summit. Attendance is limited, so it's recommended that interested parties register at their earliest convenience.
About ThreatMetrix
ThreatMetrix helps companies stop web fraud and accelerate e-commerce in real-time so they can significantly reduce online fraud, acquire more customers faster, reduce costs, and increase customer satisfaction. The ThreatMetrix™ Cloud-Based Fraud Prevention Platform, incorporating ThreatMetrix™ SmartID cookieless device identification, provides online businesses with the ability to protect themselves and their customers by verifying new accounts, authorizing payments and transactions and authenticating user logins in real-time. Online businesses can deploy the ThreatMetrix Cloud-based Fraud Prevention Platform, which does not rely on personally identifiable information (PII), for traditional online activity via a personal computer as well as for mobile and tablet devices. The company serves a rapidly growing customer base around the world across a variety of industries including social networks (dating, gaming), financial services, e-commerce, affiliate marketing and payments. For more information, visit http://www.threatmetrix.com or call 1-650-625-1451.
© 2011 ThreatMetrix. All rights reserved. ThreatMetrix, the ThreatMetrix Cloud-Based Fraud Prevention Platform, ThreatMetrix SmartID, ThreatMetrix ExactID, and the ThreatMetrix logo are trademarks or registered trademarks of ThreatMetrix in the United States and other countries. All other brand, service or product names are trademarks or registered trademarks of their respective companies or owners.
###