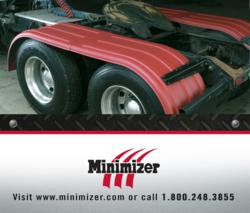 Blooming Prairie, MN (PRWEB) July 20, 2011
Minimizer recently announced a consortium of innovative initiatives that will improve manufacturing turn time and improve sales channel product flow. Jeff McCabe, the Company's President, outlined the initiatives that will create significant improvements in manufacturing and sales processes.
Manufacturing improvements include:

New research and development department creating new products for key markets, improving engineering of existing product as well as enhanced fender styles.
New extended shift has increased manufacturing capacity by 50%.
New production calendar has increased manufacturing scheduled days by 25%.
Augmented staff over the last 18 months adding 17 positions.
New fender products specific to Class 6, 7 & 8 truck chassis.
Sales channel improvements include:

New headquarters building facilitates focused, synergistic sales team in one place and improved space for sales and administrative support staff.
More targeted sales approach utilizing function, channel and distribution.
Increased prominence and marketing of lifetime warranty.
More robust marketing of fuel efficiencies, cost savings and green initiatives generated by product.
Enhanced tradeshow presence and advertising to both distributor and end-user audiences.
Joined HDA/Truck Pride and further expanded our presence with VIPAR.
Improved sales training for distributors including webinars and increased on-site visits.
Augmented leadership team with defined C-level integrator and visionary roles.
"With revenue improving 40% year-over-year during a difficult time in the industry we know we're making the right moves for our customers," said McCabe. He added, "We want to continue to set the standard for innovation and investment back into our product, facilities and team members."
About Minimizer
Minimizer fenders will enhance the performance of all makes and models of over the road trucks, construction vehicles, or agriculture equipment. The toughness is unmatched as seen on this Minimizer promotional video entitled "Tested & Tortured."
To order Minimizer fenders find a distributor by clicking here. Minimizer fenders and related products are available through exclusive Minimizer distributors. For more information call us at (800) 248-3855 or visit the website or email them at info(at)minimizer(dot)com.
Headquartered in Blooming Prairie, Minnesota, USA, Minimizer manufactures poly truck fenders, poly toolboxes, customized mud flaps, and bracket kits. Family owned and operated for nearly three generations, Minimizer parent company Spray Control Systems, Inc., was founded in 1983. Minimizer aims to provide products tough enough to please tough people in a tough industry. For more information call (800) 248-3855 or visit http://www.minimizer.com.
###