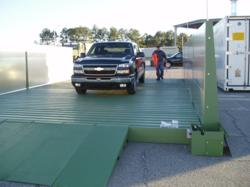 We were excited to complete the installation and training in just 4 days
(PRWEB) July 21, 2011
US Marines are using these wash racks not only to wash equipment and vehicles that require maintenance but also to apply corrosion control inhibitors. Thus the name, VCI wash racks, (Volatile Corrosion Inhibitor).
Here is a quick comparison between a concrete wash rack and a fully deployable Hydro Engineering Inc. above ground wash rack:
A concrete equipment wash rack requires architectural design, PE stamps, building permits and bids from contractors to build the wash rack. Once the construction of the concrete wash rack is completed, it becomes a permanent fixture.
Hydro Engineering's patented Hydropad above ground equipment wash racks do not require; an architectural design, permitting or construction of any kind. Hydropad instant wash racks are equipment and not a capital construction project. An above ground wash rack can be moved when required.
A quick listing of the equipment installed at multiple US Marine sites included:

Hydrosite, equipment enclosures; these act as portable or permanent equipment rooms and also provide for factory installed and tested equipment, HVAC, backup heating, and lighting. The complete system is UL and CE certified.
Hydroblaster pressure washing equipment.
VCI application system.
Hydrokleen water filtration and recycling equipment that will treat all collected water.
Hydropad above ground wash pads with splash control walls.
Generators to supply power to the system as no power was available.
As far as owner supplied utilities, only a water supply connection was required. Hydro Engineering Inc. provided portable power and because these wash systems are not connected to a sewer, no sewer connection was required. 100% of all collected water is continuously filtered and recycled back to the Hydroblaster wash equipment.
The Hydropad steel equipment wash rack meets the first requirement of a Storm Water Pollution Prevention Plan (SWPPP) for a wash rack. From here wash water can be filtered via Hydro Engineering Inc. waste water filtration equipment and recycled for continued use.
###