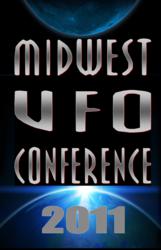 Speakers will present new testing results on UFO site artifacts at the Midwest UFO Conference.
Kansas City, MO (PRWEB) July 21, 2011
The Midwest UFO Conference will be held August 27, 2011 at Unity Temple on the Plaza, 707 W 47th Street, Kansas City, Missouri 64112 from 9:00 AM to 9:30 PM. National speakers will lecture on the UFO phenomena, and popular vendors will have UFO and related products for sale.
The conference is sponsored by UFO Midwest Magazine, with members of Kansas and Missouri MUFON volunteering at the event. Editor Margie Kay expects a large turnout this year due to the recent increase of UFO sightings nationwide.
Speakers and topics include Dennis Balthaser, retired Civil Engineer, "Scrutinizing Roswell, Area 51, Underground Bases and the Pyramids of Giza"; Grant Cameron, UFO researcher,"Roswell, UFOs, Myths, Conspiracies and Realities - The Rest of the story"; Debbie Ziegelmeyer, State Director of Missouri MUFON, "Missouri UFO Investigations"; Art Campbell, author and UFO researcher, "New San Augustin Crash Evidence"; Chuck Zukowski, ex-deputy Sheriff, "Roswell Debris Site Investigative Procedures and Artifact Analysis"; and Margie Kay, Editor of UFO Midwest Magazine, "2012 – is a Global Change Coming?" Much information will be presented for the first time at this conference.
Todd Sheets, host of Nightwatch Radio Show, will MC the event. The conference will be filmed by Benchmark Investigation Group, and DVD's will be available for purchase.
Registrations may be made online at http://www.ufomidwest.com or by calling 816-833-1602 Monday- Friday from 9:00 AM to 5:00 PM. Discounts for early registration, MUFON members and UFO Midwest subscribers. $40 for members, $60 for non-members, with $5.00 off if registration is received by August 1. Tickets available at the door on a space-available basis only, so early registration is recommended. Vendor space is available.
Media Contact
Margie Kay:
UFO Midwest Magazine
816-833-1602
margiekay06(at)yahoo(dot)com
###