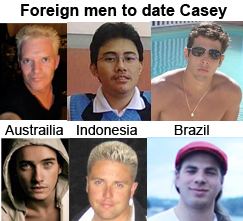 "Casey should be safer with the right foreign man"
Miami, Florida (PRWEB) July 20, 2011
As specialist in international dating and foreign countries, LatinEuro.com has complied an extensive and comprehensive list of unbiased, sincere and eligible bachelors who could have a positive relationship with Casey Anthony, without the preconceptions that have come with the wall to wall media coverage about her.
The media is awash with stories and claims toward Casey.
"Casey Anthony Targeted by Death Threats", according to TMZ.com
"Someone is threatening to kill Casey Anthony... all kinds of threats happening since the controversial verdict came in," according to Casey's attorney Cheney Mason.
"Casey has left one Jail only to be in another Jail. The safest place for Casey Anthony now is outside the USA. As an international dating site we have 100's of handsome foreigners who have no media bias towards her. She is an attractive woman and many men living abroad would want to date her. Our studies have proven that. Casey can have a new start in life with a clean slate." says Vania Santos manager at http://www.latineuro.com.
Latineuro.com is an expert in "international dating" and may be the world's most famous international dating site with over 22 years in business and almost a million unique visitors a month. They have a unique knowledge of dating, relationships and marriage with regard to the mindset of foreigners who date Americans.
See new potential dates for Casey Anthony at: http://www.latineuro.com/casey_anthony.php. Many of the foreign men live in Europe, Australia, New Zealand and South America. New male members join everyday. There is a huge pool of good men for Casey to choose from and to avoid the perils that exist for her in the USA.
Contact Vania Santos at: 1-305-858 7766 or vania@latineuro.com - 444 Brickell Avenue, Suite 51-517, Miami, Florida 33131 USA
###