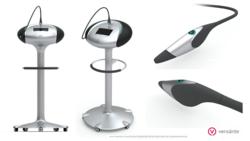 Verisante Aura is a revolutionary device in early skin cancer detection
Vancouver, British Columbia, Canada (PRWEB) July 20, 2011
Verisante Technology, Inc. (TSX-V: VRS, OTCQX: VRSEF) (the "Company" or "Verisante"), a leader in cancer imaging technology, is pleased to unveil the industrial design renderings of the Company's Verisante Aura™ device for the early detection of skin cancer.
"The design of Verisante's Aura™ is meant to mirror the Company's corporate identity and culture, with a focus on precision and innovation," said Thomas Braun, President and CEO, Verisante. "The Verisante Aura™ is a revolutionary device in early skin cancer detection, and our industrial design reflects the ground-breaking nature of our unique technology."
"We have gone through a comprehensive design and usability process, garnering feedback from doctors, nurses and patients alike," said Don Cleland, founder of Cleland Creative and team lead of Verisante's brand creation and industrial design team. "Our focus was to apply the brand's core attributes through the development of a streamlined and dynamic-looking device. As a result, Verisante's Aura™ has been designed not only to look and feel good but to exceed the functional and ergonomic end-user requirements."
For an artist rendering of Verisante Aura™, please visit: http://www.verisante.com/products/aura/
The Company expects to obtain regulatory approval to begin sales and marketing of Aura™ in Canada, Europe and Australia by the end of the year.
Verisante will be exhibiting at an information and education booth at the American Academy of Dermatology ("AAD") Summer Meeting in New York from August 3-7 at the Hilton New York. The AAD is the world's largest dermatologic association, with a global membership of over 16,000.
Those attending AAD are encouraged to visit the Company's booth (#431) to view a full scale model of the production device.
Members of the media who wish to meet with Verisante in New York should email Mahafrine Petigara at mahafrine.petigara@edelman.com. Others wishing to arrange a meeting with Verisante during these events should email Anna Trinh, Corporate Counsel, at atrinh(at)verisante(dot)com.
About Verisante Technology, Inc.
Verisante is a medical device company committed to commercializing innovative systems for the early detection of cancer. The Verisante Aura™ for skin cancer detection and the Verisante Core™ series for lung, colon and cervical cancer detection utilize a proprietary cancer detection platform while the operating software and probe technology are unique to each device. The cancer detection platform was developed by the BC Cancer Agency and tested and refined on approximately 1,000 lesions at the Skin Care Centre at Vancouver General Hospital. This exclusive platform technology allows Verisante to develop and offer a range of compact, non-invasive cancer detection devices that offer physicians immediate results for many of the most common cancers. The Aura and Core have not yet been approved for sale. The Company anticipates Health Canada approval for the Aura in late 2011.
The TSX Venture Exchange has neither approved nor disapproved of the contents of this press release. Neither the TSX Venture Exchange nor its Regulation Services Provider (as that term is defined in the policies of the TSX Venture Exchange) accepts responsibility for the adequacy or accuracy of this press release.
For further information contact:
Verisante Technology, Inc.
Thomas Braun, President & CEO
Telephone: (604) 605-0507
Email: info(at)verisante(dot)com
Website: http://www.verisante.com
Youtube: http://www.youtube.com/verisante
Twitter: http://www.twitter.com/verisante
Facebook: http://www.facebook.com/verisante
Forward Looking Statements
This news release may contain assumptions, estimates, and other forward-looking statements regarding future events. Such forward-looking statements involve inherent risks and uncertainties and are subject to factors, many of which are beyond the Company's control that may cause actual results or performance to differ materially from those currently anticipated in such statements.
###