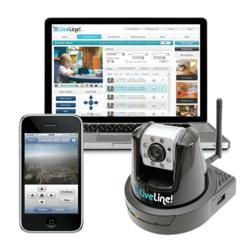 Los Angeles, CA (PRWEB) July 23, 2011
LiveLine would like to introduce their newest and most exciting IP Video Monitoring System with H.264 technology and a very easy to use wireless feature(WPS - Wi-Fi Protected Setup)that takes the hassle out of setting up your camera for wireless use with the ability to view your live video feed on an IP enabled device with LiveLine's H.264 technology and audio. LiveLine's new 3410 also has more than double storage capacity.
LiveLine is the easy to use, affordable surveillance system that allows you to monitor your home or business from anywhere in the world over the web. LiveLine features include live monitoring via the web and IP enabled mobile phone, motion detection, two way audio, day and night monitoring, automatic recording, email alerts and more! LiveLine takes the hassle out of setting up an IP camera with our easy to install system, literally zero configuration - just plug and view. Unlike most video surveillance systems, LiveLine is Mac friendly and works with major web browsers. Simply login to Liveline.net and view your camera from anywhere in the world.
Also available immediately is LiveLine's iPhone, iPad and Droid App. These applications allow users to remotely view their home, families, or business in real time while on the move. LiveLine users have access to all of these features at their fingertips. Features include viewing live images, saving snapshots, accessing pan/tilt features such as auto patrol, pan/scan or simply use the standard or preset controls. Keep in mind that our product comes with a free 6 month basic subscription.
The entire LiveLine site and all video and recordings are protected by an encrypted SSL connection. No publicly resolvable DDNS record is used, so user's internet connection information stays private. All transactions are also secured with Secure Sockets Layer (SSL).
Please Contact LiveLine For More Information.
###