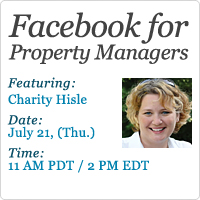 Santa Barbara, CA (PRWEB) July 20, 2011
AppFolio, providers of web-based property management software, announced a free Web seminar for property managers scheduled for Thursday, July 21st at 11am PST. This educational event will feature Charity Hisle from Socially Engaged Marketing, LLC. Charity is a speaker, trainer, and full-time social media consultant and is well-known in the multifamily industry for her innovative and unique insights regarding social media for property management.
This webinar will focus on how property managers can create a presence on Facebook that attracts and retains residents. Charity's presentation will cover all of the key elements of Facebook that property managers should take advantage of to maximize their online marketing presence.
Webinar highlights:

Detailed overview of how to set-up and manage Facebook pages for properties and communities. Exactly what property managers need to do from start to finish.
Tips and best practices to better understand the Facebook audience and ideas on what current and prospective residents want to see.
Real-world examples of successes and the dreaded Facebook mistakes property managers should avoid.
This complimentary webinar is open to all residential property managers interested in the topic, click here to reserve a seat.
This educational event is hosted by Grace Hill l, the leading provider of education and networking opportunities for members of the multifamily industry, and AppFolio, providers of web-based property management software designed for today's residential property manager. AppFolio is committed to providing the property management community with tools that help them run a better business. The AppFolio team hosts educational platforms such as PropertyManager.com and GreenPropertyManagement.com, as well complimentary Webinars to provide participants with valuable information on ways to run a more successful business.
ABOUT APPFOLIO
Headquartered in Santa Barbara, AppFolio was started by a team of technology leaders with proven experience creating software that businesses love to use. AppFolio creates complete, easy-to-use, web-based solutions for multiple vertical markets and the first AppFolio SaaS service was specifically created for residential property managers. With investors including Cisco Systems, BV Capital and the Investment Group of Santa Barbara, AppFolio's rapid growth is being fueled by very happy and loyal customers.
###