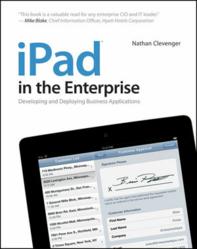 Nathan Clevenger gets it. Read this book or risk getting left behind.
— Marc Benioff, CEO, salesforce.com
Minneapolis, MN (PRWEB) July 20, 2011
The ability to manage nearly every aspect of our personal lives with a mobile "app" has quickly spilled over into our professional lives as well. The proliferation and ease-of-use of mobile devices is creating demand for enterprise-level applications designed to make jobs easier, provide better access to corporate knowledge systems, and improve sales and service levels.
To take advantage of this transformational technology, business and information executives must develop an enterprise mobile strategy that addresses both external- and internal-facing systems. In "iPad in the Enterprise: Developing and Deploying Business Applications" (Wiley; August 2011; ISBN: 9781118022351; $44.99), mobile strategy development expert Nathan Clevenger gives leaders a playbook to define and execute an enterprise mobile strategy.
"'iPad in the Enterprise' outlines how organizations can leverage investments in information systems to deploy business intelligence and executive dashboards, customer relationship management and order-capture solutions on the iPad and other mobile devices," said Clevenger, who also serves as chief software architect at ITR Mobility. "Even many paper-driven processes, such as sales presentations and survey data capture, can be dramatically enhanced to improve business efficiency and information access through mobile apps."
The iPad has revolutionized the mobile-computing landscape and the impact that this device is making on corporate IT is no less significant. By following the approach Clevenger recommends, business leaders, corporate IT and other internal decision-makers, such as marketing and operations, can collaborate to realize the opportunity and avoid time-consuming mistakes.
Readers of the book will benefit by:

Learning to embrace the consumerization of IT and maximize the positive impact
Evaluating architectural approaches and build enterprise-friendly applications
Designing highly usable user interfaces while gathering feedback from users
Developing Web, hybrid and native applications designed for mobile devices
Applying industry best practices to assure security of your applications and data
Planning, managing, and securing deployment of iPads within your organization
Advance Praise:
This book is a valuable read for any enterprise CIO and IT leader.
— Mike Blake, CIO, Hyatt Hotels
Nathan Clevenger gets it. Read this book or risk getting left behind.
— Marc Benioff, CEO, salesforce.com
About the Author:
With more than a decade of experience, Nathan Clevenger is an expert in the design and execution of enterprise mobility platforms and programs. As chief software architect at ITR Mobility, Clevenger helps enterprises take advantage of mobile applications to empower employees. He is the enterprise editor for iPhone Life magazine, and a featured speaker at mobile and IT conferences, where he shares his passion for capturing the unrealized potential for mobile technology within the enterprise.
Minneapolis-based ITR Mobility is a mobile consulting and software development firm with 150 employees devoted to creating mobile strategies and enterprise architectures for Fortune 500 companies. As the creator of iFactr, its mobile development framework, ITR Mobility has deployed enterprise applications in some of the largest retail, healthcare and financial companies in North America, and powered the largest iPad app deployment in 2010.
About Wiley:
Founded in 1807, John Wiley & Sons, Inc. has been a valued source of information and understanding for more than 200 years, helping people around the world meet their needs and fulfill their aspirations. Wiley and its acquired companies have published the works of more than 450 Nobel laureates in all categories: Literature, Economics, Physiology or Medicine, Physics, Chemistry, and Peace.
Our core businesses publish scientific, technical, medical and scholarly journals, encyclopedias, books, and online products and services; professional/trade books, subscription products, training materials, and online applications and websites; and educational materials for undergraduate and graduate students and lifelong learners. Wiley's global headquarters is located in Hoboken, N.J., with operations in the U.S., Europe, Asia, Canada and Australia. The company's website can be accessed at http://www.wiley.com. The company is listed on the New York Stock Exchange under the symbols JWa and JWb.
###