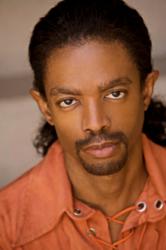 Hollywood, CA (PRWEB) July 20, 2011
In 2009, many remember talk radio show host/actor Wendell James for his exciting and hilarious performance week after week in the Off Broadway play "Sex, Relationships, and Sometimes…Love". Back by popular demand, James returns to the play for a six week run to perform "Bon Appetite". The show will begin Thursday July 21, 2011 with two shows at 7:00p.m. and 9:30 p.m. and will run every Thursday at the Complex Theater located at 6476 Santa Monica, Blvd., Hollywood; CA. James is scheduled to perform at the 7:00p.m. show. He is assured to bring his zany comedic antics to the stage every night. To purchase tickets go to http://www.sexrelationshipsandsometimeslove.com.
"This is one of my favorite plays! Every night I get a chance to stretch the character and kind of play around with the possibilities." I have my own style and Joelle let's me go for it!"
Sex Relationships and Sometimes…Love was written and directed by Joelle Arqueros and produced by Nicolas Read and is now in its 7th year. The Hollywood show has become a staple event where agents and managers are known to attend and discover new talent. The play is also running in New York, Toronto and Ireland.
About Wendell James
Former talk radio show host/actor Wendell James is known in Hollywood circles as Mr. Personality. James recently wrapped on the movie "35 and Ticketing" executive produced by long-time friend, Kym E. Whitley. Prior to that, James was "road manager" on reality show "Breaking the Band". James is also a producer on the award winning documentary "Gang Girl".
Other credits include: Frankies Jewels, Dirty Laundry, My Super Sweet Sixteen, Afro City and DIVAS Simply Singing.
As a talk show and red carpet host, some of Wendell's most memorable interviews include celebrities: Dan Rather, Gayle King, Forest Whitaker, Brook Shields, Macy Gray, The Black Eyed Peas, Sheryl Lee Ralph, Loretta Devine, Alfre Woodard, Niecy Nash, Lynn Whitfield and Omarosa. Wendell is currently taping "Talking with Wendell" for television scheduled to air this fall. You can follow Wendell on twitter.com/wendelltalking or check him out at http://www.youtube.com/talkingwithwendell
For interviews, please contact Reid Johnson-Rich at 310.560.1383 or email reid(at)iscopepr(dot)com.
###