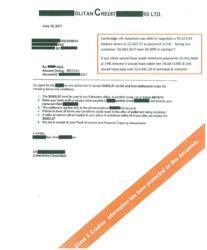 British Columbia, Canada (PRWEB) July 20, 2011
We have all heard the saying "drowning in debt" but for Ms. Goldsmith the saying held all to true. With over $9,000 in credit card debt making minimum payments put her on a road that could take over 28 years to pay off and she really started to lose all hope. Struggling from minimum payment to minimum payment would mean she would have paid back over $23,000 in principal and interest.
Ms. Goldsmith heard the advertisement for Cambridge Life Solutions and decided to give them a call. Cambridge Life Solutions is a registered Canadian corporation helping consumers negotiate down the balances on their unsecured debts.
A debt consultant provided her with a free consultation and fully explained the process of the debt negotiation program. She enrolled and Cambridge Life Solutions was proud to give her the call once the negotiation was reached.
Cambridge Life Solutions Review was able to settle her $9,323.63 debt down to $3,263.27. Cambridge Life Solutions saved Ms. Goldsmith over $6,06.36 in principal and interest. Attached is the actual settlement offer achieved on her behalf. A $9,323.63 debt was negotiated down to $3,263.27; saving our client over $6,060.36 in savings - that's 65%. More settlement examples can be found by clicking here: Cambridge Life Solutions Reviews
# # #