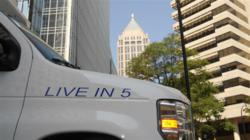 News stations need only send a reporter to the scene.
New York, NY and Foothill Ranch, CA (PRWEB) July 21, 2011
All Mobile Video (AMV) and On Call Communications announced a joint venture today to base an HD, IP based satellite news gathering van out of AMV's location on 26th Street in NYC.
The joint venture will serve news and media organizations delivering High Definition and Standard Definition video directly to network studios or via All Mobile Video's downlink at Gateway where it can be picked up on fiber networks. News networks will be able to quickly broadcast live from the scene of breaking New York stories due to several advantages: the centrally located Mid-town base is convenient for all of lower Manhattan, the SNG van is more compact than traditional satellite uplink trucks making it more maneuverable in crowded streets and the speedy, automated deployment of the QuickSPOT portable satellite system puts crews on air within five minutes of arrival.
News stations need only send a reporter to the scene; the service package includes satellite uplink van, HD/SD video encoder, cameraperson/operator, IFB with Producer's line and Internet access. HD/SD cameras and light kit are optional. Because the ku satellite system is automated, networks will enjoy lower daily rates for service as the savings are passed on to the news customers.
The new SNG vehicle is built around On Call's QuickSPOT IP based satellite system. The system provides a high quality HD or SD Video feed from the vehicle as well as a full suite of mobile office functionality including voice lines, FTP, and Internet access.
On Call and All Mobile Video have already been working together as On Call uses AMV's Gateway for QuickSPOT's East Coast point of presence out of the New Jersey teleport and fibers feeds to the major POPs in New York City.
For more information on the service call Leonard Laxer at AMV 646-230-6996/917-299-0205 or our 24 hour TOC at 732-969-3191.
About On Call Communications
On Call Communications specializes in mobile communications systems. It is a leading provider of rapid-deployment satellite systems and satellite bandwidth for satellite newsgathering, business continuity, disaster recovery, commercial and governmental clients. On Call offers an array of highly portable, auto-deploy antennas that can even be used for the most challenging of circumstances. With little more than a flip of the switch, they are ready to go wherever news breaks. Conveniently packaged, pre-configured baseband electronics allow users to connect video, phone and data applications within minutes of deployment. Learn more at http://www.occsat.com/.
About All Mobile Video
All Mobile Video is the country's premier provider of end-to-end video and audio solutions for entertainment, sports, and news programming and events. We offer the full spectrum of services - from spacious Manhattan based sound stages with full post-production capabilities to mobile production and editing trucks and extensive uplink solutions that travel worldwide- as well as an extensive equipment inventory that allows us to fully custom spec any facility or location. Learn more at http://www.allmobilevideo.com/.
###