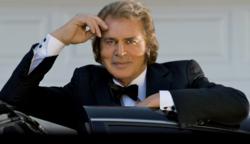 Receiving s Star on the Las Vegas Walk of Stars, and be honored by Mayor Goodman all in the same day makes for a blessed day. I owe a lot to Las Vegas, having started my career here with Dean Martin in 1968," says Mr Humperdinck
Las Vegas, NV (PRWEB) July 20, 2011
International Recording Super Star, Engelbert Humperdinck, will be honored by Mayor Goodman at City Hall, live at 9:00AM, and be presented with the first Key to the City of her Mayorship. Mr Humperdinck will receive the Key in City Hall just before the days proceeding's begin.
Then, without delay, Mr Humperdinck will be honored by the Las Vegas Walk of Stars in the 55th star dedication ceremony on official "Humperdinck Day", Wednesday July 20, 2011 at 11:00AM. The dedication ceremony will take place in the Paris Theater at the Paris Hotel and Casino located at 3645 Las Vegas Blvd. South. The Star was donated by his children – Louise, Jason, Scott and Bradley Dorsey.
"We are proud to honor Engelbert Humperdinck with a star on the Las Vegas Walk of Stars," said Bob Alexander, President of the Las Vegas Walk of Stars.
"I am truly proud to be receiving this accolade from the City Of Lights. Ever since my dear fiend Dean Martin presented me at the Riviera Hotel in 1968 my love affair with this wonderful city was cemented. To join an illustrious group of my contemporaries is both humbling and exciting. I thank Las Vegas for all that it has taught me throughout the decades that I have been fortunate to tread the many stages around this town. I also thank my children for their love and support and my beautiful wife Patricia for being my best friend," said Engelbert
For more than four decades, international icon Engelbert Humperdinck has shared a legacy of love with fans of every age, on every continent. With four Grammy nominations, a Golden Globe for "Entertainer of the Year", 63 gold and 24 platinum records and a star on the Hollywood Walk of Fame, Humperdinck has joined an elite group of musical artists, such as Tony Bennett and Burt Bacharach who have crossed over successfully to strike a new chord with a younger generation while continuing to entertain their core audience. Several of the major forces in the world of rock n' roll, including Jimi Hendrix and The Carpenters started out as opening acts for Humperdinck in the late 60's, 70's and '80's. He even stopped the Beatles from having their 13 consecutive number 1 single when his version of Release Me stalled the Beatles Penny Lane /Strawberry Fields Forever single from taking the top spot.
Boasting over 100 million fans worldwide & 250+ Fan Clubs, selling over 130M cd's & albums, Engelbert has recorded everything from the most romantic ballads to the platinum-selling theme song "Lesbian Seagull" for the latest Beavis and Butthead movie. His remarkable voice and extraordinary talent has endeared him to millions of fans around the globe with the MTV generation having just "discovered" what a magnificent musician the rest of the world has celebrated for decades.
Building on this incomparable heritage, comes Engelbert's latest CD "Released" which boasts new material including the Bob Segar classic 'Weve Got Tonight'. Released is also the name of his latest world tour, a romantic tour-de-force that is currently taking him from Paris (France) to Pennsylvania, Moscow to Manchester, and Vienna to the infamous Las Vegas strip's Paris Hotel.
Engelbert Humperdinck brings his signature act to the Paris Hotel July 21-24. Where else would you find the King of Romance, but at The Paris!
###