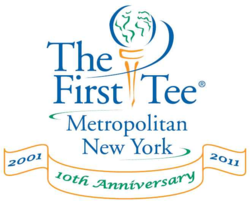 "Countless individuals, organizations and corporations have given us the ability to serve youth through The First Tee over the past decade."
NEW YORK (PRWEB) July 20, 2011
Former President Bill Clinton will pay tribute to the life and legacy of the late Lewis Rudin, founding Trustee of The First Tee of Metropolitan New York, at the Chapter's 10th anniversary gala celebration, scheduled for 6:30 p.m. on Wednesday, Oct. 5 at the American Museum of Natural History in Manhattan. Mr. Clinton, a personal friend of Mr. Rudin, will speak about Rudin's philanthropic vision as a founding Trustee in this program that teaches positive values such as honesty, integrity and perseverance to young people through the game of golf.
Mr. Rudin's passion for educating youth through The First Tee is shared by his son, William, and his grandson, Michael, a current member on the Chapter's board of directors. Nicknamed "Mr. New York" for his enthusiastic promotion of the city he loved, Mr. Rudin was integral in the establishment of The First Tee at Mosholu Golf Course in the Bronx, and the learning center at this location was posthumously dedicated in his honor in 2001.
During its first 10 years, The First Tee of Metropolitan New York Chapter has gone from a dream of Mr. Rudin and its other founders, to a program that boasts more than 5,000 active participants at six facilities and more than a dozen affiliate sites. The remarkable growth, according to Barry McLaughlin, executive director of The First Tee of Metropolitan New York, was made possible through the support of its founding partners: the Met PGA and Metropolitan Golf Association, along with the financial support of corporate sponsors at the PGA TOUR, including The Barclays and MasterCard, and the United States Golf Association.
Also to be honored at the anniversary celebration will be more recent Trustees: the Ryan family, represented by Kevin Ryan, and Len Wilf, whose years of support have helped allow the Chapter to spread its positive message to many children and others who have supported The First Tee's mission.
"Countless individuals, organizations and corporations have given us the ability to serve youth through The First Tee over the past decade," McLaughlin said. "This event will allow us to say thank you to a number of those who have made our Chapter into the far-reaching organization that it is today and also to gain additional partners for the future to allow the organization to further develop in the years ahead."
Scheduled to join former President Clinton at the event are many other special guests and members of the New York area sports community including NBC commentator Dan Hicks, who will serve as the master of ceremonies.
Tables ($10,000 full; $5,000 half) and corporate sponsorships for the event may be purchased through Rachel Newman, Manager of Communications, at The First Tee of Metropolitan New York by calling (718) 655-9164 or via email at rnewman(at)thefirstteemetny(dot)org. Additional information about The First Tee and its programs is available at http://www.thefirstteemetny.org.
# # #