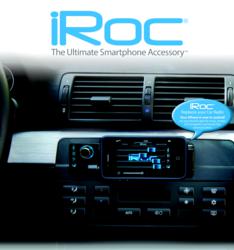 Austin, TX (PRWEB) July 22, 2011
Jackson Electronics announced today the release of the Ultimate Smartphone Accessory™. The iRoc® System, a revolutionary product line providing a low cost alternative to OEM factory installed infotainment systems for the motor vehicle audio market, enables Internet connectivity from within the motor vehicle.
The iRoc® system replaces the existing radio and provides a unique customer experience, utilizing the iPhone as the hub of the information ecosystem … a completely integrated motor vehicle audio, video, navigation, and on-board communications system, retaining access to over 350,000 iPhone Apps, in a compact single or double DIN package with a sleek factory installed appearance, safely eliminating the need for bulky cables or hidden compartments.
"This is a major milestone for our company," stated Michael Gagliardi, President & CEO, Jackson Electronics, LLC, "The iRoc® system is truly an extension of the consumer's Smartphone and our goal is to provide a great customer experience by seamlessly integrating the Smartphone with the motor vehicle. Because it truly ROCKS, the iRoc® will become "THE MUST BUY" accessory for the millions of iPhone users that demand a multi-media experience in their vehicles."
The iRoc® system utilizes the iPhone as the central hub of the information ecosystem, leveraging 100% of the Smartphone capabilities to provide a seamless experience for the consumer. There is no learning curve as the consumer is already comfortable and familiar with his or her iPhone. Consumers retain access to over 350,000 applications while in their vehicles. If the consumer has a capability or feature present on his or her iPhone, it is available to them in the vehicle, through the Smartphone display, audio speakers, and external video screens. When entering the vehicle, the user simply attaches the iPhone to the patented iRoc® integrated docking station.
Craig Jackson, Founder & CTO, Jackson Electronics, LLC, stated, "With the growing adoption of Smartphone technology, mobile consumers are demanding improved connectivity between their vehicle audio/video systems and their Smartphones and portable media players (PMPs). The iRoc® system is the first, low cost, aftermarket solution which fully integrates a consumer's Smartphone and PMP into their motor vehicle."
About Jackson Electronics, LLC
Jackson Electronics, headquartered in Austin, TX, is a Consumer Electronics company dedicated to providing unique, cost effective solutions for the worldwide mobile internet community. For more information, please visit http://www.iRocOnline.com.
###