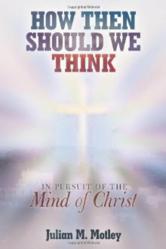 Wakeforest, NC (PRWEB) July 21, 2011
Accepting Jesus Christ as Savior starts one on a journey of faith that leads to a face-to-face encounter with Christ and into a growing understanding of the love of God. In his new book, How Then Should We Think: In Pursuit of the Mind of Christ (published by CrossBooks), Julian M. Motley guides readers on their journey to merge their hearts with the heart of Christ.
The spiritual wisdom of How Then Should We Think is the culmination of Rev. Motley's lifetime of experience serving Christ as a shepherd of the flock. As readers make their way through the pages of How Then Should We Think, they will embark on a journey of understanding. Only by allowing Christ to dwell in one's heart through His Word and Spirit can the difference be experienced in one's life.
As the homiletical application of the Scriptures is a vital aspect of the Christian experience, several of the chapters of How Then Should We Think began as sermons that the author prepared and delivered as a pastor and seminary instructor. Fellow author and seminarian George Barna suggests that the best sermons "should be easier to understand, less abstract, more spontaneous". How Then Should We Think takes this suggestion to heart as it is written in a style that is more straightforward and flowing than many other books written on Christian theology and spirituality.
How Then Should We Think maintains a special focus on the personal and spiritual oneness of the believer with Christ. This is accomplished without going, as some do, to the subjective and sometimes mystical level of focusing on experience itself rather than on Christ as the mainspring of Christian experience. The succinct writing style and forthright concepts presented in How Then Should We Think make it an invaluable tool for pastors, study groups and casual readers alike.
About the Author
Julian M. Motley was born in 1927 in Pittsylvania County, Virginia. He earned his Bachelor of Arts at Wake Forest College in North Carolina and his Master of Divinity at Southeastern Baptist Theological Seminary. Motley served as a pastor for 46 years and as an adjunct professor and director of pastoral ministries at Southeastern Baptist Theological Seminary for 13 years before retiring in 2006. He and his wife Jane live in Wake Forest.
CrossBooks, a division of LifeWay Christian Resources of the Southern Baptist Convention, is a Christian publishing company committed to bringing more Christian voices into the publishing industry. For more information, visit http://www.crossbooks.com.
###