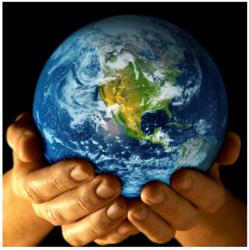 Recent studies indicate that increased frequency of heat stress, droughts and floods negatively affect crop yields and livestock beyond the impacts of mean climate change, creating the possibility for surprises.
Washington, DC (PRWEB) July 21, 2011
The Security and Sustainability Forum (SSF) has announced the second of its complimentary 5-part Adaptation and Security Webinar Series.
In Session 2 hear international experts discuss the threats to economic, environmental and political security from adaptations to maintain food and water supplies in a changing climate. Watch a 4 minute preview.
The esteemed panel includes: Peter Gleick, Co-Founder and President of the Pacific Institute for Studies in Development, Environment, and Security; Jay Knott, VP Abt & former AID Mission Director for Jordan; and Ed Pinero, Executive Vice President and Chief Sustainability Officer of Veolia Water North America & former Federal Environmental Executive for the U.S. Government's Council on Economic Quality.
Join the discussion on adaptation, conflict and food and water security.
Register for the August 4th 1:15 – 2:45 PM EDT event, at http://www.securityandsustainabilityforum.org
The SSF Adaptation and National Security Webinar Lineup: Following Tracy Mehan's August webinar, SSF will host the following monthly online sessions:

Session 3 - Adaptations to Protect the Health of the Nation;
Session 4 - Adaptations to Protect the Nation's Physical Infrastructure; and
Session 5 - Adaptations to Maintain Economic Growth in a Changing Climate.
Check the SSF website to register and for the schedule and panelists for the remaining sessions.
About The Security and Sustainability Forum: SSF's Adaptation and National Security Webinar Series is designed to assist managers, decision makers and professionals from government, industry and academia better understand and promote effective measures to adapt to the physical, environmental, economic and political security threats of a changing climate.
Each 90 minute live session features a panel of experts in the subjects. To learn more visit: http://www.securityandsustainabilityforum.org
###