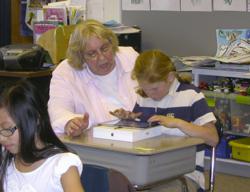 "To my knowledge, Tower is the only elementary school in Massachusetts offering a program of this kind—one that ensures that every student in grades 3-8 is equipped with an iPad."
- Head of School Peter Philip.
Marblehead, MA (PRWEB) July 22, 2011
It's a Tuesday afternoon at Tower School in Marblehead, Mass., and Mrs. McCarthy's third grade classroom is hushed in concentration. The object of such intense focus? The students are playing a Quiz Show–style game on tablet computers to test their knowledge of national parks, the subject of a recent classroom unit. What park is known to have the greatest population of black bears? One student deftly punches his answers onto the screen of his iPad while another throws up her arms with excitement when she sees that she has selected the correct answer (Shenandoah).
Down the hall in Mr. Wells's science class, fifth graders are using tablets to graph the bounce height, stretch distance, and other physical characteristics of glubber, a polymer similar to Silly Putty. Next door, Mr. Thompson's sixth graders are using iPads to watch a slideshow of pictures and maps related to the previous night's reading and to take notes on a shared Google Doc.
All of these activities are part of a tablet computer program that puts students and teachers at this independent PK-8 school at the forefront of the educational technology movement. Based on the success of a pilot program launched last spring, Tower will institute a 1:1 iPad program for all students in grades 3-8 this fall. Students will receive school-provided iPads to use at school and bring home each evening. At the end of the school year, they will return the iPads, which Tower will then redistribute in September.
"To my knowledge, Tower is the only elementary school in Massachusetts offering a program of this kind—one that ensures that every student in grades 3-8 is equipped with an iPad," says Head of School Peter Philip.
In an age where the average student's lexicon includes YouTube and Google, technology is a language that young people understand. Tower's tablet program stems from the work of the school's Technology Task Force, which has identified ways in which the school can be forward-thinking, flexible, and inventive in the rapidly expanding realm of learning technology.
"Tower's teachers are driving the program," says Philip. "They are excited by the potential that iPads provide to enhance their students' educational experience. Our enthusiastic pursuit of this program highlights the school's integration of contemporary and traditional approaches to education."
Science teacher Deb Eames has found that iPads enable her to combine these approaches effectively—with results that sometimes even surprise her. Her third graders used iPads to make drawings of their 3-D gear projects—something that they previously did on paper. "Though I was impressed with the results of their drawing work, what was exciting about doing this project on the iPad was how easily it became more than a drawing," she says. "We ended up with complete documentation of their projects and accomplishments, and these can be shared and accessed from any computer."
This type of collaborative learning and inventive teaching is a distinguishing feature of this new classroom tool. "The information revolution, driven by widespread access to the internet, means that education is not only about the transmission of knowledge from teacher to students," notes Philip. "Now, the teacher must instruct the student in the skills necessary to access, filter, process, employ and take advantage of the massive amount of information available."
While the program is a significant financial investment for Tower, the school's administrators recognize its enormous value to students and have made it a budget priority. Says the school's business manager, Dean Sidell, "Tower has always strived to create a budget so that teachers can provide an academic program that meets our curricular goals and provides the best resources available to our students."
About Tower School
Founded in 1912, Tower School is the oldest independent elementary school on Boston's North Shore. We aim to spark a lifelong love of learning in our students by providing a stimulating education in a supportive environment. We encourage children to strive for personal levels of excellence and to develop fully across a broad range of academic, physical, creative, and social endeavors. Tower seeks to nourish a spirit of inquiry, to impart an appropriate body of knowledge, to set high standards, to instill strong learning habits, and to help students become secure in themselves while respecting the dignity of others.
###