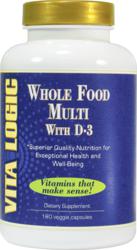 As consumers began moving away from standardized multivitamins, we set out to offer a high quality whole-food multi at a competitive price," says Brian Hatcher, sales manager for Vita Logic.
Columbus, GA (PRWEB) July 22, 2011
This month, Vita Logic, creator of best-selling multivitamin Daily Extra, and also popular Master Vite, is announcing their new Whole Food Multi, made naturally from herbal extracts, fruits, earth-mined minerals and nutrient-dense superfoods. The multivitamin sets itself apart by containing the extra ingredient of Vitamin D3 in a vegetarian capsule.
The Vita Logic Whole Food Multi fills a current void in the natural vitamin and supplement market for a vegetarian, food-based multivitamin/mineral formula. Consumers are beginning to become more aware of the value of the much higher absorption rates that can be gained through food-based multis over standard ones often made with synthetic chemicals. Whole Food Multi not only covers the components of basic nutrition but it also combines true food sources, such as greens from spirulina and chlorella; cancer-fighting antioxidants like green tea, resveratrol, maqui, noni and gogi berries; and 1500 IU of vitamin D3 – a rare, full-spectrum list of ingredients in the multivitamin industry.
Jan McBarron, MD, ND, who's participated in the formulation of many of Vita Logic's products, held the formulation of the Whole Food Multi close to heart. With researchers becoming increasingly aware of the vital role of vitamin D3 in several areas of health, McBarron felt it important to ensure people are including a high enough daily intake in their multivitamin.
One study, which was published in the European Heart Journal, included 300,000 people in eight European countries examined for their daily fruit and vegetable intake and subsequent risk for ischemic heart disease (IHD). Surprisingly, the results showed a 4% reduction in the risk of dying from IHD with each additional fruit and vegetable serving participants consumed over two servings.
Vita Logic believes the data reinforces the importance of people getting adequate amounts of fruits and greens for optimal health.
About Vita Logic Vitamins
Founded in 1994, Vita Logic was established with the mission to produce supplements that would meet the highest standards of quality and at the same time give the customer the best value for their money. What started with the formulation of the multiple vitamin and mineral supplement, Daily Extra, has now grown into a family of products addressing various health needs. The formulary design team includes a board-certified medical doctor, allowing Vita Logic to stay on top of the latest research and keep customer safety a top priority. Being a member of the NPA, Vita Logic puts their full confidence in the unsurpassed quality of their products. To visit the company's website, go to http://www.vitalogicvitamins.com.
###