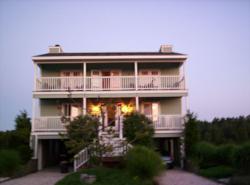 Our beaches continue to be attractive options for second homeowners from nearby metropolitan areas.
Georgetown, DE (PRWEB) July 20, 2011
Data released recently by the National Association of Realtors(NAR) indicates a continuously strengthening second homeowner market across the country, including in the beach resort areas of Sussex County.
The 2011 NAR Investment and Vacation Home Survey reveals that vacation home sales across the United States accounted for 10 percent of all transactions last year, while investment sales accounted for 17 percent of the overall market.
Southern Delaware's figures mirror those national numbers. For the first half of 2011, nearly 700 homes were sold in Sussex County's resort areas alone, with the average three bedroom home selling for $404,601 and the average four bedroom home selling for $715,121.
"Here in Sussex County, we've found that our vacation and second homeowner market continues to help us weather the current economic conditions better than most markets," says Sandy Greene, 2011 president of the Sussex County Association of Realtors (SCAOR). "Our beaches continue to be attractive options for second homeowners from nearby metropolitan areas. And I think they'll continue to be."
Low interest rates, an exceptionally high number of homes on the market and the traditional spring and summer buying season have also buoyed sales in recent months, not only at the beach resorts, but throughout Delaware's southernmost county.
The most recent figures released by SCAOR show a sales increase of 11 percent over the same time a year ago, with the average home in Sussex County as a whole selling today for a median price of slightly more than $300,000.
"We're definitely seeing positive signs in Sussex County moving forward buoyed, as always, by sales in our beach communities," says Greene. "As long as we have that big body of blue water to our east, our area will continue to be attractive to out-of-state buyers. It's always been that way, and I honestly don't see that ever changing."
NAR's recently released survey reveals several interesting figures in regards to vacation and second homes across the country. The median vacation home price for 2011 was $150,000, obviously lower than prices along Delaware's seashore where homes often sell for more than a million dollars.
The typical vacation home buyer was 49 years old with a median household income of $99,500 and purchased a property within 375 miles from their primary residence, numbers which fit second homeowners from the Washington, D.C. and Baltimore metropolitan areas who purchase beach homes in Sussex County.
More than a third of vacation home buyers surveyed said they plan to use the property as a primary residence in the future.
"That's the formula for most of our second homeowners in Sussex County. They buy a home here, come here on vacation or for the summer, then move here permanently upon retirement," says Greene. "We've seen a big growth in our retirement communities over the last couple of decades, and that number will only grow larger as more people begin to retire and settle in for their Golden Years."
The Sussex County Association of Realtors was chartered in 1949 and has steadily grown in size, scope and mission during its more than six decades in Sussex County. It is a professional trade association with goals of carrying out a program of education and advocacy for real estate in the county.
SCAOR is a resource for the public, as well as a recognized advocate for property rights and property owners in Sussex County. The association also monitors legislative issues on the local, state and national levels that may impact home ownership in the area.
To read more about issues related to Sussex County's real estate industry, visit SCAOR's website at http://www.scaor.com
###