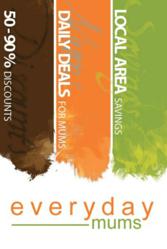 In these difficult financial times, mums are in need of family orientated discounts.
London, UK (PRWEB UK) 21 July 2011
Everyday Mums, a new social e-commerce website for mums, will soon be launching in London, initially providing deals for mums in the south west and south east of the city. Everyday Mums is already preparing to expand to the rest of London and the UK, providing hugely discounted daily deals to savvy mums throughout the country.
Following the rapid US success of daily deal sites targeted at families, Everyday Mums will be one of the first sites to offer this service in the UK. Everyday Mums is where mums searching for great deals, will discover big daily discounts on the most sought-after products and services that the city has to offer.
By combining social networking and group buying, Everyday Mums will publicly release heavily discounted deals if enough moms sign up for them, providing savings of 50 to 90 percent on "mum recommended" products, activities, and services. The deals can then be shared with friends and family via e-mail, Facebook or Twitter. Every referral that leads to a sale will give savvy mums an extra £5 towards their balance on the website.
The Everyday Mums team consists of native London mums (and dads), who are committed in finding the best everyday deals for everyday families.
"Everyday Mums knows that mothers have grown weary of the daily deal sites that solely target single women or young couples. In these difficult financial times, mums are in need of family orientated discounts," said CEO Lawrence Suss, who previously ran a successful software e-commerce company, and is a proud father of two. "We only offer deals we personally would be willing to buy. Deals that mums would happily recommend to others."
In preparation for its launch, the site has already been busy securing some great deals for the summer; savvy mums can already sign up to be notified of the launch and deals.
By signing up, mums will enjoy:
-Selected daily deals: a daily email sent to their inboxes with discounted offers of 50 percent or more on everything from children's clothing to family outings to essential home products. Every day, a new family/mum oriented deal will be featured and will run for a scheduled 24 hours or more.
-Referral bonus: £5 added to their balance each time someone who followed their referral link makes their first purchase.
-Deal suggestions: a platform to suggest deals they would like to see. Everyday Mums consistently aims to provide mum-tested and mum-approved deals.
    
About Everyday Mums:
Everyday Mums is a daily deal Web site geared towards savvy mums. Each day, Everyday Mums emails members a deal that relates to mothers and their busy family lives – everything from restaurants and home products to family outings and kids' activities. Everyday Mums puts a new spin to the UK group buying craze, in that it is solely focused on mums and deals that will make their lives easier. The company is headquartered in London and will be rolling out to major cities throughout the remainder of 2011 as well as in 2012. To sign up for the launch, visit http://www.EverydayMums.com. Mums can also visit the site's Facebook page and Twitter users can follow Everyday Mums at http://www.Twitter.com/EverydayMums.
For Partners:
Everyday Mums is always seeking strong partnerships with businesses that are interested in generating a multitude of new customers. We extensively research the services and products featured on our site. Our partner vendors, receive a high-quality performance marketing solution that requires no upfront costs. In addition to this, all of our partners receive free marketing to the Everyday Mums community. To learn more about how Everyday Mums works with businesses and how we can get to partner with you, please email Partners(at)EverydayMums(dot)com.